Western hosts ISPME biennial Music Education conference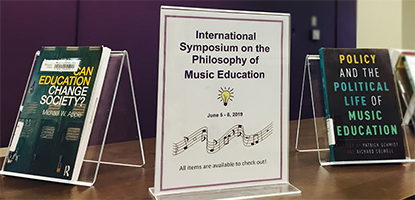 We were honoured to welcome more than one hundred delegates and grad students from 17 nations from the International Society for the Philosophy of Music Education, June 5-8, 2019. Their 12th biennial Symposium on the Philosophy of Music Education was hosted at Western University by ISPME Site Chair and Music Education Department Chair, Patrick Schmidt. Keynote speakers included Michael W. Apple, Ruben Gaztambide-Fernández, and Arts and Humanities at Western Dean, Michael Milde.
The symposium sought to encourage and stimulate discussions on a wide range of topics related to philosophy of music education from international and interdisciplinary perspectives. This included, in particular, research concerned with intersections of philosophy of music education and music education policy, or comparative and international music education.
The symposium also held a pre-conference workshop for doctoral students, June 3-5, 2019.
For further information about the International Society for the Philosophy of Music Education visit: http://ispme.net
Related Links
International Symposium on the Philosophy of Music Education
International Society for the Philosophy of Music Education
ISPME 2019 - Full Conference Schedule including Paper and Panel Abstracts