Notable organist John Vandertuin, BMus'82, MMus'88, finds keys to perfect sound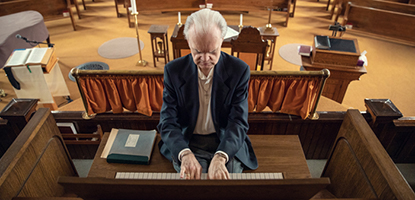 Music swells in a grand chorus through the sanctuary. It resonates through the very bones of the old church – ringing from the ranks of pipes, ascending into the balcony, tumbling down towards the fellowship hall.
Seated at the organ console, John Vandertuin's straight back sways ever so slightly while his feet dance over the pedalboard. His fingers flutter across the keys as he works the manuals with an ease born of ceaseless practice.
An assemblage of Braille music sheets pours out from a well-used black leather folder on the organ bench, but it remains untouched – an unspoken reminder that he has committed to memory almost six decades of repertoire.
This place, this instrument, is John Vandertuin's home.
Read full article (Western News, May 3, 2019)
Photo: Frank Neufeld/Western News
Related Links:
Music Alumni Wall of Fame (2012 inductee)
Music Performance Studies Department