PhD Candidate Gabriela Ocadiz Velazquez leads immigrant and refugee youth ensemble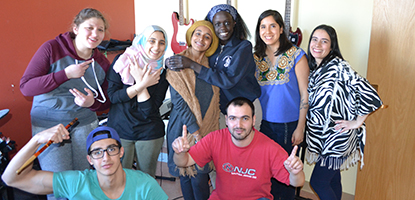 Six months ago, some of them had never picked up a musical instrument. Now, a multicultural, seven-member music ensemble composed of immigrant and refugee youth performed a concert as part of the 2018 London Fringe Festival. Led by Gabriela Ocadiz Velazquez, a PhD Candidate in Music Education, the musical youth group is believed to be the first-of-its-kind in London.
At Western, Ocadiz Velazquez studies immigrant and refugee youth who participate in community music programs, under music advisor Patrick Schmidt, Chair of Music Education. Her work will help better understand their experiences, the problems they face in a new environment and how music can often sustain them through difficult times in life.
Read Western University media release (May 30, 2018)
Related Links:
Gabriel Ocadiz Velazquez - biography
Don Wright Faculty of Music - Graduate Studies
CTV News London: Music makes the world go round
CTV News London intern: Temo Primrose reports
June 27, 2018 - 2:31 min.