PhD student composer Andrew Noseworthy interview with I CARE IF YOU LISTEN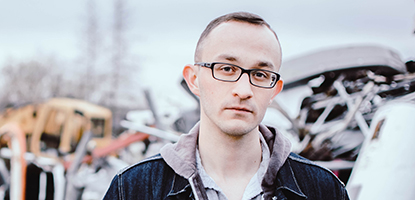 PhD (Composition) student, Andrew Noseworthy and one of his NYC collaborators, Aaron Garcia were recently interviewed by the online New Music publication: I CARE IF YOU LISTEN.
In their interview with Jason Charney, Noseworthy and Garcia speak about their independent record label People Places Records, which they founded in 2017, first releasing music by their own experimental duo: this place is actually the worst, and expanding to works by a tightly-knit network of adventurous players and composers.
Founded in December 2010 by Thomas Deneuville, I CARE IF YOU LISTEN was born from the desire to talk about Contemporary Classical Music—or New Music—in lay terms. Other topics include Art and Technology.
Read full interview (icareifyoulisten.com, October 24, 2018)
Photo: Tanea Hynes
Related Links
this place is actually the worst