Graduate student Kristal Daniels brings inter-generational music to the community at Oakcrossing Retirement Living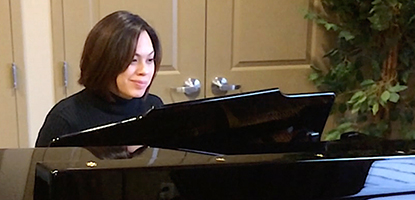 Kristal Daniels, a Don Wright Faculty of Music graduate student, is one of three musicians-in-residence at the new Oakcrossing Retirement Living in London. Musicians, and residents such as Bill Holland (see article) benefit from the relationships formed from a partnership that is, so far, unique in the province.
We're pleased to share Oakcrossing Retirement Communities has announced they will once again be offering their "Student Live-In Program" for the 2018-2019 academic year exclusively to registered graduate students at Western University's Don Wright Faculty of Music. Applications are due May 16. Check your UWO email account or check in with the Music Graduate Studies office for application details.
Read full article and view video ("Outside the Gates" special feature, Western News - Mar 6, 2018)
Photo: Debora Van Brenk/Western News
Related Links
Don Wright Faculty of Music - Graduate Studies