Alumna sings 'O Canada' at Vimy Memorial, meets Prime Minister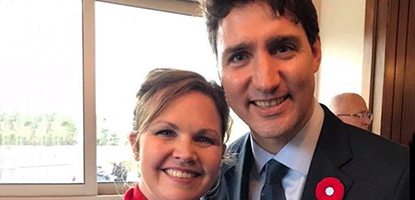 Alumna Mary Beth Brooks (Collard), BMus'07, BEd'08, sang 'O Canada' and 'La Marseillaise,' the French national anthem, at a memorial service held on November 10, 2018 at the Canadian National Vimy Memorial. There, she met Prime Minister Justin Trudeau and other federal government dignitaries, one day before Trudeau attended a Remembrance Day ceremony in Paris.
Brooks is a music and choir teacher at Ecole Jeanine Manuel in Lille, France, where she lives and works with her husband Jean-Charles Collard, a primary school teacher, and her two young children.
Brooks has lived and worked in France since 2009.
Read full article (SooToday.com)
Photo: Facebook photo, sourced from SooToday.com article