Backing raises Stephanie Ciccarelli's (BMusA'06) Voices among elite firms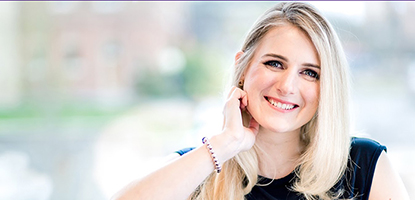 It's been a big year for Stephanie Ciccarelli and her business venture – perhaps the biggest yet.
Thanks to one of the largest investments in the history of London's tech industry, Voices.com, co-founded by Ciccarelli, BMusA'06, and her husband David, in 2005, is well-positioned to dominate the voice-talent industry. Earlier this year, the company announced an $18-million investment from Morgan Stanley Expansion Capital – a boost that will generate a more visible profile while allowing it to expand its offerings to include more diverse talent.
"When I was at Western in the Music faculty, in my second year, I was on the University Students' Council and my role was the Gigs Commissioner, responsible for helping other people get work. That helped prepare me for many things I did. I was always finding ways to relate what I was learning in class to the (Voices.com) business we were building at the time and making connections and seeing opportunities where others didn't," Ciccarelli explained.
Read full article (Western News, November 16, 2017)
Photo: Cornelia Klimek
Related links
Media Release (Morgan Stanley)