Tigran Saakyan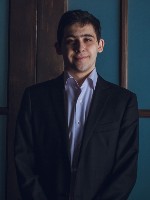 DMA Student
Performance - Solo Piano
Office: TC 332
Email: tsaakyan@uwo.ca
Tigran Saakyan was born into an Armenian family in Moscow, Russia.  His piano journey began at the Tchaikovsky Academic Music College at the Moscow State Conservatory and Gnesins Russian Academy of Music with professors Gayane Akhnazaryan, Natalia Trishkina, and Denis Burstein. Tigran was actively involved in Moscow's concert life performing as a soloist and collaborative pianist. In 2010-2012 he took the opportunity to perform at international piano competitions in Italy (Citta di Barletta, First Prize and Special Prize), France (Opus Yvelines), and Armenia (Renaissance, Second Prize). In 2015, he went on to study with Professor Alexander Tselyakov at Brandon University where he received his Master of Music degree in Piano Performance. At Brandon University, Tigran continued his development as a pianist performing in competitions and festivals and collaborating with some of Manitoba's foremost musicians including Alexander Tselyakov, Catherine Wood, Kerry DuWors, and Leanne Zacharias. In 2016, he was the winner of the MRMTA piano competition in Winnipeg. In 2017, as the winner of the Concerto Competition at Brandon University, Tigran performed the Rachmaninoff Second Concerto with the University Orchestra.
In 2018, Tigran entered the faculty at Music and Play Canada in Calgary, Alberta with a full-time teaching position. While on the faculty, he performed as a soloist and collaborative pianist in Alberta, British Columbia, Russia, Mexico, and the USA. In 2019, Tigran was invited to the 15th Pender Harbour Chamber Music Festival in British Columbia where he performed with Canada's leading musicians. In 2021, Tigran became a part of the Mountain View Festival (Charles Foreman, artistic director) in Calgary, Alberta where he appeared in the series of concerts Isolation Point Project.
Currently Tigran is studying at Western University working on the Doctor of Musical Arts degree in Piano Performance with Leslie Kinton.