Rosheeka Parahoo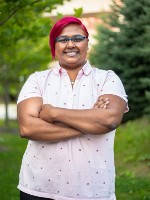 PhD Student
Musicology
Office: TC 329
Email: rparahoo@uwo.ca
Rosheeka Parahoo (she/her/hers) is a PhD student in Musicology whose research interests lie at the intersection of queer studies and popular music. Her present research investigates how to achieve authentic representation and equity for marginalized communities in the music industry. Ro holds a Master of Arts in Musicology from Western University (2018) and a Bachelor of Arts in Music from the University of Guelph (2014). 
Ro's research employs interdisciplinary approaches to identify the barriers to representation and formulate solutions to achieve equitable depictions of minority communities in popular music. Her research looks beyond the music and analyzes the performative, cultural as well as financial components of building an equitable and inclusive pop music industry.  
Ro is also a classically trained guitarist and is a passionate guitar instructor. Ro has been a guitar instructor and coordinator for the Creative Camps of the City of Mississauga. In addition, Ro has been a guitar instructor and band leader for the Girls Rock Camp, an organization dedicated to empowering young girls through music.  
Ro is an active member of the administrative life of the Don Wright Faculty of Music. She is currently the Chair of the Society of Graduate Students in Music (SOGSIM) and acts as representative for the Society of Graduate Students (SOGS). Outside of Western University, Ro is a student board member on the Membership and Professional Development Committee for the American Musicological Society (2020-2021). Most recently, Ro serves as a board member for the 30th anniversary of the Feminist Theory and Music conference (July 2022).