Theodore Baerg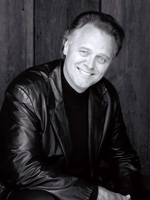 Professor
Director - Opera
Office: MB 307
Phone: (519) 661-2111 x85388
Email: tbaerg@uwo.ca
Since his debut as Figaro in the Canadian Opera Company's Summer Festival production of Il Barbeire di Siviglia, Professor Theodore Baerg has enjoyed a long and celebrated career with performances in Canada with opera companies and orchestras from St. John's, Newfoundland to Victoria, B.C., and in the United States from New York to Houston to San Fancisco. His European debut took place at England's Glyndebourne Festival. He has performed concerts in South America and Asia.
In addition to more than 80 operatic roles, Ted was heralded as Emile DeBecque in the hit Stratford Festival production of South Pacific and with the New York City Opera as the Hajj in Kismet. He is a popular star for orchestra evenings devoted to the works of Strauss, Lehar, and "The Best of Broadway."
Ted has been privileged to work with many of the greatest conductors including Kurt Masur, Sir Donald Runnicles, Marco Armaliato, Bramwell Tovey, Sir Charles McKerras Erich Kunzel, Eduardo Mueller, Franz-Paul Dekker, Hans Graff, Charles Dutoit and Nicola Rescigno among many others. A few of his stage directors have included Lotfi Mansouri, John Cox, Frank Corsaro, Brian MacDonald and John Copely.
Professor Baerg has performed many world premiere operas and concerts including Mario and the Magician and The Golden Ass with the Canadian Opera Company. His operatic repertoire ranges from the title role in Alban Berg's Wozzeck to Eisenstein in Die Fledermaus to the title roles in Il Barbiere di Sivlglia, Rigoletto, and Don Giovanni.
His concert repertoire includes many of the oratorio greats. He has performed recitals and masterclasses across Canada and the United States. His discography includes a DVD of Turandot (Ping) with the San Francisco Opera as well as two CDs: La Mystique D'Amour (with Irena Welhasch Baerg) and Enchanted Evenings.
During the summer months he has taught at numerous young artist programs including La Musica Lirica in Italy, Opera Nuova in Canada, and FIO Americas in Brazil.
Professor Baerg's former students have been engaged in many of Canada's professional young artist programs and have entered wonderful professional careers in music and academia.
Ted is blessed to be married to soprano Irena Welhasch Baerg and they have two married sons, both musicians, and six grandchildren.