Kristin Darsaut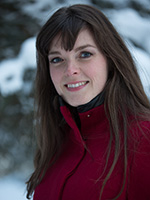 Lecturer
Office: TC 14
Phone: (519) 661-2111 x82043
Email: kdarsaut@uwo.ca
Born in Toronto, Ontario, Kristin Darsaut is a versatile music educator and performer. After moving to London, she studied music education under Ken Fleet, Jennifer Moir, Dr. Victoria Meredith, and Dr. Gerald Neufeld at Western University and was awarded the Don Wright Scholarship in Vocal and Choral Music Education upon graduation.
Ms. Darsaut remains active in the music community as an educator, performer, and clinician. A member of internationally acclaimed "Six Vocal Ensemble", she has toured in Europe, Asia, the United States, and across Canada. The group's second album, "A Rush of Rain", garnered international attention for winning the Best Folk / World Album of the Year at the Contemporary A Cappella Recording Awards in 2015. Currently, Ms. Darsaut is privileged to work with the wonderful vocal and choral students at Sir Frederick Banting Secondary School in London, Ontario.
In the past, Ms. Darsaut has enjoyed singing as a member of Chor Amica, "Project Sing!" women's ensemble, the Western University Singers, the Orchestra London Philharmonic Choir, and serving as assistant artistic director of the Conspirato Chamber Choir. She has led workshops at various choral festivals alongside renowned musicians and educators including Bob Chilcott, members of Finnish a cappella group Rajaton, Scott Leithead, Melanie DeMore, and Debra Cairns.