Hannah Burgé Luviano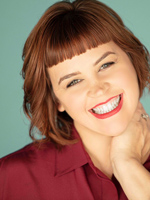 Lecturer
Office: TC 323
Email: hburgelu@uwo.ca
Hannah Burgé (Métis Nation Ontario) is an artist and academic. She is a Lecturer at the Don Wright School of Music. Previously, Hannah taught music history, ethnomusicology, theory, and performance practice at Humber College in Toronto. She is a Ph.D. Candidate (ABD) at Queen's University in Kingston, Ontario; her dissertation explores themes of identity, cultural hybridity, and masculinity in the Mexico City mambo bands of Dámaso Pérez Prado.
Hannah has been a guest speaker and clinician for the University of Bologna and the Istituto Italiano di Cultura Toronto, Queen's University, the International Institute of Critical Studies in Improvisation, the Society for Ethnomusicology, the North American Cultural Diplomacy Initiative (NACDI), and the Vancouver Symphony Orchestra Summer Jazz Series. In 2023, Hannah received the prestigious Díaz-Ayala Library Grant, supported by the Cuban Research Institute and the Kimberly Green Latin American and Caribbean Center at Florida International University. Hannah speaks on gender equity in jazz, music cities, and Latin American popular music forms.
Hannah introduced Swingão, a Samba Jazz project, at the TD International Jazz Festival in Toronto on Canada Day, 2023. This all-star, international band features Brazilian master drummer, Portinho, Hendrik Meurkens, Paco Luviano, herself, and Gord Sheard. Hannah's debut album, Green River Sessions (2014) charted on US College Radio and received sustained worldwide airplay on more than three hundred stations; and still receives regular airplay. Hannah headlined Mexico City's Polanco Jazz Festival and performed at the Library of Congress in Washington, D.C. Her compositions have been featured on Kuné; Canada's Global Orchestra (Universal Canada), for theatre and film projects.
© Hannah Burgé Luviano, 2023