Alexandre von Wartburg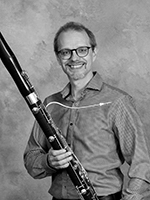 Lecturer
Bassoon
Office: MB 219
Phone: (519) 661-2111 x85844
Email: avonwart@uwo.ca
Born and raised in Geneva, Switzerland, Alexandre graduated from the Conservatoire de Musique de Genève (Performance, Counterpoint, Solfège), and from Western University (Performance, Music Education). His teachers and mentors were Kim Walker, Jim MacKay, and William Waterhouse. Currently, Alexandre pursues his interests in Historically Informed Performance on baroque and classical bassoons.

Alexandre started his career in Education by teaching Solfège at the Conservatoire Populaire de Musique de Genève. He continues today with Instrumental Music and Guitar at a French first language school in London. At the Don Wright Faculty of Music, he is a bassoon instructor in both the Performance and Education Departments.

As an orchestral and chamber musician, Alexandre has had opportunities to perform in Canada, Switzerland, Germany, France, Italy, Poland, and Hungary.