Paul Davenport Theatre

Paul Davenport Theatre (formerly Talbot Theatre) in Talbot College hosts more than 200 performances per year, attended by more than 32,000 people. It seats about 400.
The Paul Davenport Theatre is wheelchair accessible. Access ramp into Talbot College is located to the right of the main entrance on Lambton Drive.
From instrumental ensemble concerts to opera, from renowned guest artist recitals to performances given by local dance troops, the theatre is a cornerstone to the Faculty, city and country.
---
Theatre Rentals
Rate information is provided as a general guideline. No rates are confirmed for any rentals or services (including piano tuning and staff resources) until needs are discussed with the concert manager and confirmed by written contract.
---
Renovations completed in August 2009 gave the Paul Davenport Theatre a $5-million facelift: half was committed by the university while the other half came from fundraising.
Renovations included:
Increasing the height of the hall by removing the former ceiling and second-floor classrooms above. A 2-inch plaster ceiling also assists in improving the reverberant space and acoustics.
The proscenium arch of the stage area was removed and a new orchestra shell installed, complemented by adjustable acoustic banners.
The fan shape of the house was altered to eliminate sound traps caused by that configuration.
New stage and fire curtains and improved lighting.
Mechanical system improvements will remedy noise problems caused by the heating, ventilation and air conditioning units.
New seats, lobby finishes, theatre signage.
Listen and see the opening sounds of the newly renovated Paul Davenport Theatre (formerly Talbot Theatre).
Renovation in Pictures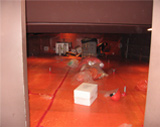 September 3, 2008: Preparing for asbestos removal; Note how close the scaffolding is to the ceiling!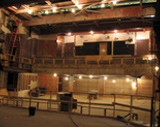 December 5, 2008: Removal of the proscenium arch and the scaffolding has been taken down.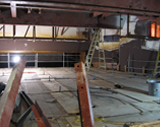 September 10, 2008: Removal of 3rd-floor flooring is complete; Note how much higher the ceiling is than in the last photo.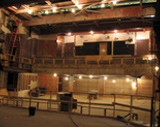 December 5, 2008: Removal of the proscenium arch and the scaffolding has been taken down.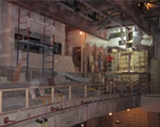 March 9, 2009: Time for brick laying, putting up dry wall, welding the new cat walks, pouring concrete for additional balcony space along the sides of the theatre.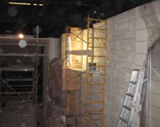 April 28, 2009: Interior brick work has finished [pictured at left]. Working on completing installation of wood sound panels, painting of fixtures, installation of handrails, completion of lobby finishes [second floor lobby pictured at right]. Estimated completion date of project is around May 31, 2009.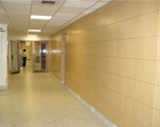 June 16, 2009: The Grand Opening occurred. Visit YouTube for a compilation of images and music.
---
Contact Information
Louis D'Alton
Concert Manager
519-661-3019 x83019
ljdalton@uwo.ca