Aaron Hodgson Releases New Album
Aaron Hodgson Releases New Album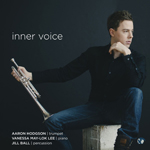 Don Wright Faculty of Music Assistant Professor Aaron Hodgson has just released a new album: inner voice. The album features Hodgson (trumpet) accompanied by Vanessa May-lok Lee (piano) and fellow DWFoM faculty: Jill Ball (percussion) playing works by Schumann, Hubeau, Ridenour, Vaughan Williams and Prokofiev. The album was produced by Sergei Kvitko and was recorded by Blue Griffin Recording.

Committed to expanding the trumpet's capabilities and audiences, Hodgson is a founding member of the Reveille Trumpet Collective. Reveille has presented engaging, multimedia performances at the Banff Centre and the Sound Symposium Festival, and contributed to the commissioning of many new solo and chamber works for trumpet. Hodgson is also a member of Reverb Brass, a quintet dedicated to exciting performances of contemporary works. After several years at Memorial University of Newfoundland, in 2012 Hodgson joined the faculty of the Don Wright Faculty of Music, Western University. Hodgson holds a Doctor of Musical Arts from Yale University

For more information about the album, click here to download a copy of the CD Liner Notes.
---
Posted June 9, 2017