Fred Pattison Competition Winner 2023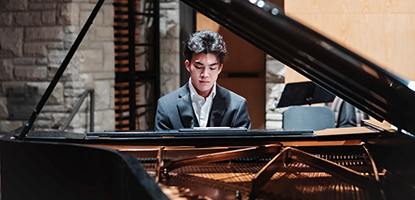 Congratulations to Terrence Wu, winner of the 2022-2023 Fred Pattison Piano Award Competition.

The other two student finalists selected were Kai Melconian and Boxuan Zhang. The selected finalists were adjudicated by Dr. David Rogosin, who also gave a masterclass.
1st prize: Terrence Wu (student of Stephan Sylvestre)
2nd prize: Kai Melconian (student of Angela Park)
3rd prize: Boxuan Zhang (student of Kyung Kim)

Proceeds from the Fred Pattison Award Fund support the Fred Pattison Piano Award at the Don Wright Faculty of Music, which is to be awarded to the winner of an annual piano competition. In addition to receiving a cash award, the winner gives a public performance the following academic year.

Dr. Pattison was Western's former Head of Chemistry (1959-65) and Director of Student Health Services (1973-88). He passed away in August 2010. Dr. Pattison had a great passion for the piano and spent many hours enjoying performances in von Kuster Hall at the Faculty of Music. This award reflects his love of music and his desire to reward excellence in piano performance. 2008-09 was the inaugural year for this competition.
Pictured are the finalists with David Rogosin on stage in von Kuster Hall on Friday, January 19, 2023.