Class of 2023: DMA graduate Connor O'Kane pianist for Banff Centre's summer opera program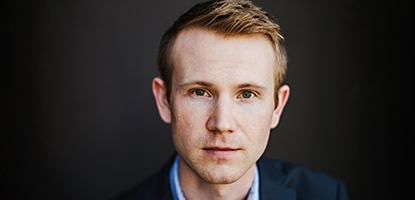 Through a competitive international audition process, new grad Connor O'Kane, DMA'23 (Performance - Solo Piano), is thrilled to be spending his summer with the renowned Banff Centre.
Selected as the only pianist to be participating in the Banff Centre's Opera in the 21st Century Program this summer, O'Kane is the répétiteur for rehearsals. In opera, a répétiteur is the person responsible for coaching singers and playing the piano for music and production rehearsals.
He spent two weeks in early June in Ottawa leading up to two performances at the National Arts Centre. In July, the program runs in Banff for three weeks, leading to multiple performances at the Banff Centre. The program's director is fellow Western grad Joel Ivany, BMusA'04, founder of the critically lauded Against the Grain Theatre in Toronto.
"The opportunity to engage with such incredible, creative artists in a setting as beautiful and inspiring as Banff is a dream come true," notes O'Kane, who has been a teaching assistant at Western for the past five years, and served as assistant conductor for Western's opera program.
At Western, O'Kane studied piano with Stéphan Sylvestre, and was supervised by Catherine Nolan for his DMA monograph Prokofiev and the Soviet Dilemma: Censorship, Autonomy, and the Piano Transcriptions which he successfully defended in April 2023. He was a recipient of the SSHRC Doctoral Fellowship for his research on the piano transcriptions of Sergei Prokofiev. Connor's previous teachers include David Jalbert (University of Ottawa), Heather Taves (Wilfrid Laurier University), Manuel Schweizer (Conservatoire de Lyon) and Joan Walker.
Connor made his debut as soloist with the Kitchener-Waterloo Symphony in 2014 under the baton of Daniel Bartholomew-Poyser. Since then, he has performed in France, the United States, and across Canada. Last year he was awarded Second Prize at the 2022 CMC Stepping Stone. An avid collaborative pianist and répétiteur, Connor has worked with conductors Simone Luti, Alain Trudel and Tyrone Paterson.