2021-22 Maritsa Brookes Concerto Competition Winners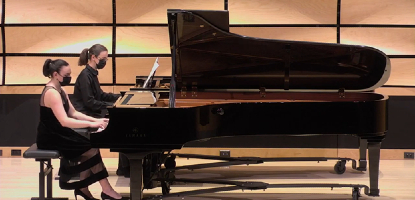 Congratulations to the winners of the 2021-22 Maritsa Brookes Concerto Competition. In order to follow COVID-19 guidelines, this year's competition was adjudicated via recordings, with the final round adjudicated on Saturday, January 29, 2022.
The 3 winners of this year's competition are:
1st Place: Lianna Grace, piano
2nd Place: Terrence Wu, piano
3rd Place, Katie Kirkpatrick, flute

Runner Up (should a performer not be eligible the following year): Minji Lee, viola
Watch the winning performance
Piano Concerto no. 5 op. 73 "Emperor": Allegro (first half)
Ludwig van Beethoven (1770-1827)
Lianna Grace, piano (accompanist Laura Altenmueller)
Thank you to all the students who participated, their professors for helping with their preparation, and their collaborative pianists for their continued support. Thank you also to the staff who made this competition so well organized.
A special thank you also goes to this year's external jury panel who reviewed all the recordings virtually: Philip Addis, voice; Jeremy Bell, strings; Lang-Ning Liu, keyboards; and Jerome Summers, winds, brass & percussion.
Awarded to any undergraduate or graduate student in the Don Wright Faculty of Music on the basis of performance excellence demonstrated in solo concerto competition, this annual competition has been a highlight for many students over the years. This award was made possible through the generous donation by Maritsa Ateena Brookes (BA '57). The winners receive the honour of performing their selection in a public concert with the Western University Symphony Orchestra in the following school year. In addition, a generous monetary award is shared amongst the winners, received in the fall following the competition.

This Competition is hosted by the Music Performance Studies Department at the Don Wright Faculty of Music.
---
Related Links
Music Performance Studies at the Don Wright Faculty of Music