Simone Luti featured in Museum London's 80th anniversary virtual exhibition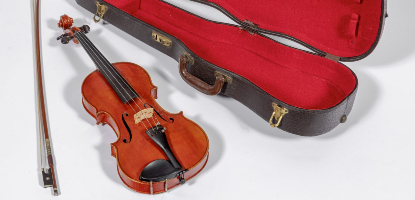 Museum London is celebrating their 80th anniversary with a virtual exhibition: 80ML 
Along with 79 other Londoners, Simone Luti, conductor of the Western University Symphony Orchestra, and head coach and music director for Western's opera program, was asked to contribute by writing a response to an artifact chosen from Museum London's collection.
To mark the occasion, Luti was assigned the violin (pictured above) owned by London-born Guy Lombardo (1902-1977), leader of the popular big-band group the Royal Canadians. Lombardo's 1929 rendition of "Auld Lang Syne" continues to be the first song of the New Year in Manhattan's Times Square.
This was Luti's response:
A violin in its case. In case it's a violin.
In case it's a fiddle, should auld acquaintance be forgot,
And never brought to mind?
Fiddle! Play! Reach out!
Seas between us roar now more than ever,
and now more than ever
I want to fiddle a gentle melody,
to reach my brother, on the other side of the bridge.
There is a hand, my trusty friend.
keep the case open, then!
Let the violin play.
In case it's a violin.
To view the full exhibition, including other Western University contributors such as President Alan Shepard, visit Museum London online. The virtual exhibition runs from May 3 until December 31, 2021.
Photo credit: Guy Lombardo's Violin, early 1900s, Collection of Museum London