Colleen Richardson honoured with Canadian Band Association International Band Award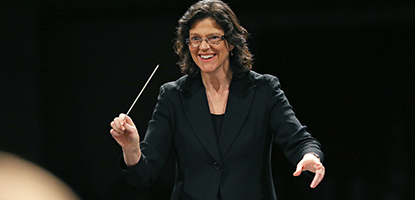 Associate Professor Colleen Richardson has been awarded the Canadian Band Association (CBA) International Band Award. Marking only the fourth time this honour has been given since it was first handed out in 1991, the Western University professor received her award during a surprise presentation on April 6, 2018 in front of a packed house in Paul Davenport Theatre.
 
A contingent of CBA and Ontario Band Association (OBA) executives, along with Don Wright Faculty of Music's Dean Betty Anne Younker, were on hand to recognize Richardson during the final Western University Wind Ensemble concert of the academic year. Among those present were Scott Harrison, CBA President and OBA Past President, and Western alumnus Dennis Beck, who helped establish the Ontario Band Association in 2000.
 
"Professor Richardson's work on national and international stages makes a direct impact on the quality of our students' musical experiences and understanding about Wind Band traditions and practices," noted Dean Younker.
 
The CBA International Band Award is presented to a person who has embraced the ideals of the CBA outside Canada and is recognized for their contribution to the international band movement, or who has represented Canada or served in an official capacity in organizations outside Canada. The CBA is a national organization representing and supporting school, university, military and community bands, band directors, students, parents, administrators, the music industry, composers, arrangers and all those interested in bands and band music across Canada.
 
In the nomination submitted by Mark Caswell, OBA Festival Coordinator & Past President, on behalf of the OBA, he wrote, "Dr. Richardson has been a true leader in the world of band music both in Canada and internationally for decades, and her stature as a researcher, conductor, teacher, clinician and celebrated educator has only grown over time… I have known Colleen for about 15 years now, and I cannot think of a more accomplished yet humble candidate for this award."
 
The successful nomination went on to note Richardson's extensive contributions to the development of band across Canada and across nations:
 
"She has dedicated her entire life to teaching young people, from elementary students learning their first notes on an instrument through post graduate university musicians, many of whom have become recognized music educators themselves. Colleen is genuinely one of the honest, conscientious, creative and most talented band educators in our province and it has been an honour to know that she is so well respected and regarded on the international band scene…. Colleen's international work has been quite extensive - she has conducted research across Europe, presented a variety of research at a host of international conferences including WASBE, ISME and PRIME, and she has been a very active clinician, music director and guest conductor in eight countries including a recent tour in Japan."
 
As associate professor of Music Education and Performance Studies, Richardson is Coordinator of Bands and directs the Wind Ensemble at Western University, as well as teaches undergraduate and graduate courses in conducting and instrumental music education. In collaboration with Associate Professor Kevin Watson, she administrates Western's Young Winds program, which is a community band for students in grades six to nine, and supervises the undergraduate music education majors selected to rehearse and conduct the ensemble. Prior to her appointment at Western, Richardson was an Assistant Professor of Music Education and the Wind Ensemble Director at Converse College in South Carolina.
 
Besides being active as a clinician, adjudicator, and guest conductor nationally, Richardson has guest conducted or presented her research at conferences in Ireland, Switzerland, Italy, Taiwan, Indonesia, Japan, Wales, and the US. Her research focuses on wind literature, conducting pedagogy, and rehearsal techniques. Publications include articles for the Canadian Winds, and the Canadian Music Educator Journal, as well as multiple study guides for the Teaching Music Through Performance in Band series. Richardson has produced two CDs with the Western University Wind Ensemble (Apparitions and Explorations), and the Hunsberger DVD within GIA's DVD set entitled Three Icons: Frank Battisti, Donald Hunsberger, and H. Robert Reynolds. Richardson is also a member of the Program Leadership Team for WASBE's Composition Contest Program as Canada's representative among a host of other national members.
 
A native of Winnipeg, Richardson graduated from Brandon University (BMus Ed), the University of Calgary (Wind Conducting Diploma, MMus Conducting), and the University of Cincinnati College-Conservatory of Music (DMA Wind Conducting).  Her primary conducting teachers have been Rodney Winther and Glenn Price. However, she has also had opportunities to study with many other well-respected composers and conductors, including: Craig Kirchhoff, Karel Husa, Warren Benson, David Maslanka, Eugene Corporon, Mallory Thompson, Robert Reynolds, and Jerry Junkin.
 
While in Cincinnati completing her doctorate, Richardson co-directed the Tri-State Chamber Players, as well as served as the Music Director and Conductor of the Cincinnati Youth Wind Ensemble. Prior to her graduate studies, she taught general, choral, and instrumental music in the Canadian school system for 14 years.
Related links:
Associate Professor Colleen Richardson - biography
Western University Wind Ensemble
Canadian Band Association - National Awards