Music grads named to CBC's listing of 30 hot Canadian classical musicians under 30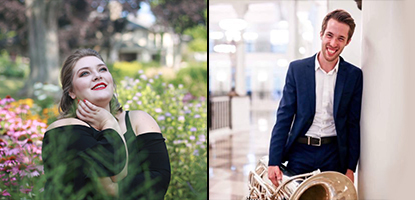 Two recent Don Wright Faculty of Music graduates are included in CBC's annual 30 hot Canadian classical musicians under 30, 2018 edition.
Mezzo-soprano Simona Genga, BMus'16, won first prize and the Audience Choice award at last year's Canadian Opera Company's (COC) Ensemble Studio Competition, earning a spot in the COC's studio ensemble for the 2018-19 season. She sang the role of Annina in a St. Louis Opera Theatre production of Verdi's La Traviata this spring after completing her Master's degree in opera performance from University of Toronto last May. Genga's most recent performance at Western University was as Mistress Quickly in the 2016 production of Falstaff. While at Western, Simona studied with Patricia Green.
Watch Genga's performance of Hector Berlioz's "Le Spectre de la rose" with pianist Trevor Chartrand in CBC's Toronto studio.
Tubist Jarrett McCourt, BMus'13, currently performs with the Winnipeg Symphony Orchestra and the Civic Orchestra of Chicago. Prior to this, Jarrett was the Tuba Fellow of the New World Symphony in Miami Beach, Florida. McCourt's playing has been called "magnificent" by the Palm Beach Daily News and "warm, romantic and seamless" by the South Florida Classical Review. He can be heard on the recently released CD by Western University's Wind Ensemble: Apparitions (Albany Records). McCourt has either won or advanced at ten competitions in the past five years, including the New World Symphony Concerto Competition, the Marta Hidy Competition for Brass in Toronto, and concerto competitions across Canada and the U.S. Most notably, he won the top prize in the brass category of the Orchestre Symphonique de Montreal's prestigious Standard Life Competition in 2014, becoming the first tubist to do so in the competition's 75-year history.
Next season, he'll tour Hamburg, Berlin and Paris with the Lucerne Festival Academy Orchestra. McCourt returns to the Don Wright Faculty of Music in April to play a concerto with the Western University Wind Ensemble, conducted by Dr. Colleen Richardson.
Congratulations to our graduates!
Photo (Simona Genga): Avery's Lightworks Photography
Photo (Jarrett McCourt): Alice Hong
Related links
30 hot Canadian classical musicians under 30, 2018 edition
Simona Rose ​Genga - Mezzo Soprano
Don Wright Faculty of Music – Opera