Marianna Chibotar-Rutkevich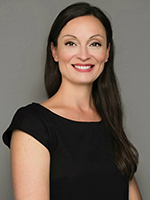 Lecturer
Piano and Collaborative Piano
Office: MB 314
Phone: (519) 661-2111 x84320
Email: mchibota@uwo.ca
MARIANNA CHIBOTAR-RUTKEVICH is an accomplished Concert Pianist, holding a Masters Degree in Piano Performance and Literature and Musicology, and a Post-Masters Degree in Piano Performance and Pedagogy from the State University of Kishinev in Moldova, where she also held studio as an Associate Professor of Piano. She has been privileged to have studied with some of the most internationally renowned piano masters and legendary pedagogues from Russia, the Ukraine, Romania, Germany, Holland, Brazil and Australia.
Having performed internationally playing numerous solo recitals, concertos, and chamber music, Marianna has honed her talents as a pianist and has further developed her special commitment to music. As an accomplished performer she has received many awards and scholarships recognizing her musicality, technical virtuosity, and subtle artistry; and has been praised in newspapers for her unique sound quality. The most noteworthy international competitions and festivals include those held in Prague (Czech Republic), Athens (Greece), Rotterdam (Netherlands), Bucharest (Romania) and Etlingen, (Germany), Moscow (Russia).
While maintaining an active performing schedule, she is also a dedicated teacher. Marianna is currently on the piano faculty at, the Don Wright Faculty of Music, University of Western Ontario, as a Piano Instructor and Collaborative Pianist, performing as a piano soloist, and chamber music soloist. Highly demanded for collaborating with vocalists and instrumentalists she holds respect as a teacher, a mentor to her students and as a pianist. Her students have distinguished themselves at the national and international levels, winning top prizes in a number of national competitions, and being accepted into prestigious universities and graduate schools.
Recently, she has been honoured to perform live for the Canadian Broadcasting Corporation Radio and Television, to appear as the official Pianist for the Canadian Music Competition, and the Provincial and National Music Competitions. Frequently requested to participate as a Conservatory Examinator, Competition Adjudicator and clinician, she also maintains a full studio of private piano students in London, Ontario.