Jana Starling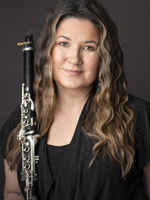 Associate Professor
Clarinet
Office: MB 311
Phone: (519) 661-2111 x84326
Email: jstarli@uwo.ca
Clarinetist Jana Starling is a nationally and internationally active performer and teacher. She has performed with the Arizona Opera Company, Paraguayan National Symphony, Phoenix Symphony Orchestra, ProMusica Chamber Orchestra and local orchestras in Ontario. She has been programmed numerous times at the International Clarinet Association's ClarinetFest®, given recitals and masterclasses at the Belgian Clarinet Academy, multiple conservatories in China, the International Music Festival Loja-Ecuador, and has been a guest artist and adjudicator at various festivals in the United States and Canada. She also teaches frequently at the International Music Camp (Peace Gardens, CAN/USA), the Interprovincial Music Camp (ON), and the co-founder of the Lift Clarinet Academy, an innovative summer clarinet program in Colorado.
Starling has recorded and commissioned new music by composers such as Eric Mandat, William O. Smith, James David, Roshanne Etezady, Jorge Montilla and Mark Wolfram. She has been involved in numerous collaborative recordings and currently tours and commissions works with the clarinet trio, Ironwood Trio, playing Eb clarinet.  Starling has 2 solo CD, Inflexion (2006 – nominated for an East Coast Music Award "Classical Album of the Year") and Mythos (2011), and soon to release a collaborative CD of new clarinet duos with clarinetist, Robert Spring and another with new works for Ironwood Trio. The Clarinet magazine (Mar 2008) CD review hails Starling as "a wonderful player….musically sensitive…. , you will not be disappointed!".
In 2011, she joined the Don Wright Faculty of Music at Western University as Assistant Professor. She previously held positions at Arizona State University (USA) and Mount Allison University (NB, Canada) and visiting professor at Brandon University, (MB, Canada). Starling received her BMus in music education from Brandon University (Manitoba, Canada, 1995) and her MMus and DMA in clarinet performance from Arizona State University (USA, 1997, 2005) in 1997. Her teachers have been Ron Goddard, Connie Gitlin and Robert Spring.