Borys Medicky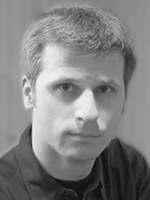 Assistant Professor
Keyboards - Early Music
Office: MB 216
Phone: (519) 661-2111 x82043
Email: bmedicky@uwo.ca
A native of Toronto, Canada, Borys Medicky concertizes extensively as a harpsichord soloist and chamber musician. He has appeared with all the major early music ensembles in Ontario and is in demand as a continuo player for symphonic performances of Baroque works. Baroque opera is a particular interest of his, and he frequently works with Opera Atelier as a rehearsal accompanist and member of the pit orchestra. He co-founded and directed the Toronto Continuo Collective, an all-continuo ensemble dedicated to fostering an increased interest in the stylish basso continuo accompaniment of seventeenth-century vocal and instrumental music. From 2006-2014 he was the artistic director of the Kitchener-based Nota Bene Baroque Players. Since 2006 he has served as organist of the Fifth Church of Christ, Scientist in Toronto. He joined the Faculty of Music at Western University in 2017.
Although Borys started his musical journey from a tender age, learning to play the piano by ear and progressing through the Royal Conservatory of Music series of exams all the way to the ARCT Piano Performance Diploma, he was undecided about pursuing a career in music and ultimately obtained a BSc degree in physics and astronomy. During his undergraduate years, he developed an increasing interest in the harpsichord and early music. A visit to the Boston Early Music Festival in the summer of 1993 made it clear to him that a musical career in harpsichord performance was the ideal way to combine his love of early music, composition and improvisation, and—having gotten his mid-life crisis out of the way in his early 20s—prospective graduate studies in atomic physics were abandoned. He devoted himself to intensive private study of the harpsichord, at the same time gaining practical experience in historical dance. He obtained a Master of Music in Performance and Literature from the Eastman School of Music and the Doctor of Musical Arts degree from Stony Brook University. At both schools his harpsichord studies were with Arthur Haas, and he also studied Baroque performance practice with lutenist Paul O'Dette.
Borys is acknowledged as an expert in tuning, maintaining and repairing harpsichords, carrying out these tasks for an extensive number of private and institutional clients all over the province. His services include tunings and instrument rentals for concerts and recording sessions. He has built one harpsichord to date and maintains a workshop in Kitchener, where he currently resides with his fiancée, plenty of books and three always-hungry cats. See
www.borysmedicky.com
for more information.