Annette-Barbara Vogel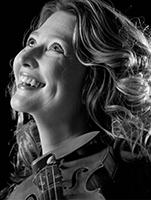 Professor
Violin
String Division Coordinator
Office: TC 110
Phone: (519) 661-2111 x85396
Email: avogel@uwo.ca
Annette-Barbara Vogel's rich international performing career has featured her as a soloist, recitalist and chamber musician in over thirty countries across six continents. Considered one of the finest German violinists of her generation, she is renowned for her "authoritative and highly sensitive performances," and "formidable technique, stunning musicality, and stage presence that transmits to orchestra and audience alike." In 2010, Gramophone Magazine lauded "Vogel's perfect intonation" and Classical CD Review, in citing her premiere recordings of the complete works for violin by Hans Gál, exclaimed that she was "about the most ideal exponent a composer could hope for."
Vogel's exceptional talent and musicianship is recognized by numerous prestigious solo prizes and scholarships: first prize in the Folkwang Competition (Essen), the Bund der Industrie Competition (Frankfurt), and the Deutscher Musikwettbewerb in Bonn. She also won a Gold Medal in the International Competition Caltanissetta in Italy, was a finalist in the International Carl Maria von Weber Competition in Munich, and a recipient of the Starling Scholarship.She has shared concert stages with notable artists such as C. Altenburger, L. Vogt, J. Levine, D. Sitkovetsky, S. Rivers, M. Kliegel, Vladimir Mendelssohn, E. Moser, P. Zazofsky and J. Lagerspetz. Vogel has performed at the international festivals Aspen, Gstaad, Graz, Seoul, Schleswig-Holstein, Kuhmo, Ravinia, and Nova Scotia, and collaborated musically with P. Amoyal, R. Gothoni, B. Greenhouse, A. Grumiaux, Lord Y. Menuhin, V. Pikaisen and the Tokyo String Quartet.
Vogel's prolific recording career as soloist and chamber musician has produced more than fifteen commercial albums. The much anticipated release of her two-volume recordings of the complete violin repertoire by Hans Gál was met with high praise as critics lauded her "committed performances... [and the] winning presence [of] her tone and delivery" Her February 2011 CD release "Französische Komponistinnen," which includes works by French women composers Farrenc, Boulanger, and Viardot, received the British IRR Outstanding Recording Award. American Record Guide April 2014 wrote, concerning her newest CD release with Daniel Sweaney "Through the Centuries" (June 2013) "This is an exceptional recital of violin-and-viola duos for three reasons: the very worthwhile unusual repertoire, the superior playing, and Blue Griffin's clear, detailed, immediate, airy, natural sonics." Her recording of violin sonatas by European Women Composers Ethel Smyth, Elfrieda Andrée and Mel Bonis will be released in 2018. Vogel has recorded for Avie Records, Bluegriffin Recordings, Cybele Records, Eroica Classical Records, and Harmonia Mundi Germany.
Vogel's precocious talent lead her to receive a multifaceted and international musical education of the highest order. At eleven years old, she was the youngest student ever accepted to the Folkwang-Hochschule Essen, where she later completed her solo and chamber music diplomas "summa cum laude." Her early training as a violinist simultaneously included several years of lessons under the legendary Dutch violinist, Herman Krebbers, at Amsterdam's Sweelinck Konservatorium. At age sixteen, Vogel was selected to study for one month at the Menuhin Academy in Gstaad under Sir Yehudi Menuhin. By then already touring professionally as a soloist and with piano trio, Trio Alani, Vogel studied chamber music under Walter Levin (LaSalle Quartet) at the Musik-Akademie Basel, before enrolling in the Artist Diploma program at Los Angeles' University of Southern California. In addition to her two German degrees (Performance and Chamber Music) and her "Konzertexamen" which she completed with highest possible honours, Vogel holds an Artist Diploma, "summa cum laude," under Dorothy Delay from the Cincinnati College-Conservatory. Vogel's performance studies also include violin pedagogy courses under Alice Schoenfeld at USC. Vogel was chosen to perform the Brahms Violin Concerto under the baton of Keith Lockhart at a Gala concert honouring Dorothy Delay's seventy-fifth birthday.
A Full Professor, Vogel accepted her appointment at Western University in 2004, where she continues to serve as the area coordinator for the string area and is in high demand as a pedagogue and chamber music coach. She was Artist-in-Residence with the "Monticello Trio" at the University of Virginia at Charlottesville, and was later violin professor at both the Folkwang-Hochschule Essen and at the University of Iowa, Iowa City. Her students have gone on to win seats in many important professional orchestras including the Frankfurt Opera, the Duisburg-Düsseldorf Oper am Rhein, the Seattle Symphony, the Portland Symphony Orchestra (OR), the Mozart Players London (UK), the Stockholm Opera, the Canadian Opera Company, London Symphonia, the Thunder Bay Symphony and the Victoria Symphony Orchestra. Several former students have also gone on to successful careers as professors throughout the US and Canada.
Prior to the foundation of Magisterra Soloists in 2015 as Artistic Director, Annette-Barbara Vogel was Founder and Artistic Director of the highly successful "MAGISTERRA! International Chamber Music Festival and Academy" at the University of Iowa, Iowa City.
www.annette-barbara-vogel.de
www.magisterra.com