Omar Daniel featured on new recording by Land's End Ensemble
Omar Daniel featured on new recording by Land's End Ensemble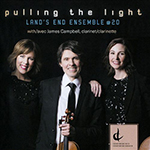 Associate Professor Omar Daniel, Music Research and Composition Department (Composition) has a recent composition featured on a new recording by Land's End Ensemble. "Pulling the Light" Land's End Ensemble @ 20 (CD - released 2018) is a collection of premiere recordings of beautiful new works by composers from across Canada, performed by Land's End Ensemble with guest artist clarinetist James Campbell, including Daniel's Piano Trio No. 2 (2015).
OMAR DANIEL
PIANO TRIO NO. 2 (2015)
1 I. Andante maestoso; Allegro scherzando 5:18
2 II. Allegro molto 2:52
3 III. Lento pesante 4:55
4 IV. Moderato, nostalgico 3:30
This work was commissioned by Land's End Ensemble and premiered on January 30, 2016 in the Rosza Centre, at the University of Calgary and was subsequently performed on Feb 5, 2016 as part of our Fridays at 12:30 Concert Series.
The work was also featured at the International Society for Contemporary Music's World New Music Days in Vancouver on Nov. 5, 2017. Read the Research in Action story.
Read more about Omar Daniel on the Canadian Music Centre Composer Showcase webpage.