Student Experience
Danielle Cyr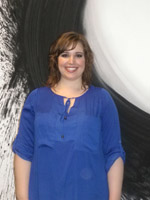 What does it take to persuade a student to give up part of their summer - part of their chance to earn money and part of their time to recharge?
Long days, starting at 8 a.m. and often going until 10 p.m., and filled with lectures, lessons, acting, movement, rehearsals and diction in several languages, probably isn't the first answer to come to mind. But that is precisely the draw for the Canadian Operatic Arts Academy (COAA), held at the Don Wright Faculty of Music each May.
"I heard it was a busy program," said Danielle Cyr. "The learning, the movement classes and masterclasses are very valuable and the faculty very accomplished. I heard from other students it was a great program."
Last fall Cyr auditioned, and was accepted into the program. Once she arrived, she immersed herself, with the rest of the students, in intensive scenes study covering the breadth of operatic repertoire with internationally recognized faculty.
Cyr played both a witch and a watersprite. "It was fun to explore different elements of myself.
"I wanted more stage experience," she said. "I like the variety of different styles." She sang in Dvorak's Rusalka, the duet "Sull'aria" from Mozart's Magic Flute and in the chorus of Verdi's Macbeth.
"I like Rusalka best – it's such passionate music. We put a more comedic spin on the Magic Flute. Learning how you act for the different opera styles and bring that into your scenes was really important. Working with the directors, Tim Nelson and Tom Diamond, really helped to understand the character and create that character."
Attending COAA provides young artists with an opportunity to work with experienced directors. Cyr said she learned so much during the time at Western.
"As far as performing, there is no limit to how much you can invest in a character. There are always options. You must spend time with the text and the music, but have fun and be in the moment."
Both faculty and the students are drawn from around the world. The faculty come from such celebrated institutions as the Boston Conservatory, San Francisco Opera, Central City Opera, Opera Studio Nederland, Teatro alla Scala, Royal Opera House, Glyndebourne, Dutch National Opera Academy, Glimmerglass Opera, Opera de Montreal, New York City Opera and Minnesota Opera.
As well as knowledge, they bring their network to Western. "The faculty are great," said Cyr. "They have a lot of valuable contacts and stage experience."
The program includes sessions for singers, pianists, assistant directors and conductors.
"It's a different take than the usual summer variety,"' said Cyr. "There is a lot of contrast in the music and the scenes."
In September, Cyr will begin her artist diploma at the Vancouver Academy of Music. "Then more summer programs and auditions, and young artists programs – eventually in Europe," she said. "These keep the learning momentum from school."