Celebrating Mahler: Western's connection to the great composer plus upcoming concerts and exhibition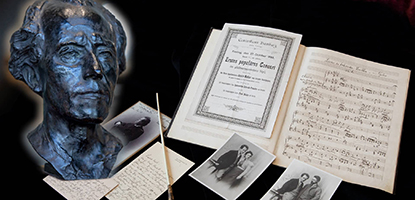 Gustav Mahler-Alfred Rosé Collection, North America's largest anthology of Mahler memorabilia, is a chronicle of European genius and tragedy.
In the film Tár, up for six Academy Awards in 2023, Cate Blanchett stars as a conductor on the brink of personal and professional demise as she prepares to record a live performance of Gustav Mahler's Symphonie No. 5.

The sweeping work, regarded as one of Mahler's greatest achievements, plays a key role in the drama. It's also attracted a new mass of Mahler fans. Within weeks of the film's release last October, streams of the symphony on Apple Music were up 50 per cent from the previous month.
This is not the first time Hollywood has precipitated a 'Mahler moment'. The Austrian conductor-composer's work was also featured in the 1971 film Death in Venice, as well as several television shows, from Fargo to The Simpsons.
Blanchett's character, Lydia Tár, is the fictional protégé of Leonard Bernstein, the subject of the upcoming Netflix movie Maestro, starring Bradley Cooper. Bernstein, also a conductor-composer, felt an affinity to Mahler and is credited for creating a 20th century resurgence of interest in the latter's music.
When Bernstein brought the New York Philharmonic to Centennial Hall in London, Ont. in 1967, he conducted Mahler's Symphony No. 4. He also took in the Gustav Mahler-Alfred Rosé Collection, now housed at Western Libraries.
*****
Music Library Exhibition
March 24-26 (Music Building Lobby)
In conjunction with two Faculty concerts featuring the music of Mahler and Beethoven and a planned activity within Spring Open House, Western Libraries' Music Library and Archives & Special Collections will present an exhibition exploring the relationship between these two composers. This display will feature rare and unique documents drawn from Western's Gustav Mahler-Alfred Rosé Collection, the largest collection of Mahler artifacts in North America, related to the career of great 19th-C conductor-composer and his reverence for the works of Beethoven.
The exhibition will be on display before and after the concerts, and during Spring Open House.
Concerts - free admission
Friday, March 24 at 12:30pm, in person or via livestream
Fridays at 12:30 Concert Series - Celebrating Mahler - featuring selections from Mahler's Des Knaben Wunderhorn

Sunday, March 26 at 2pm
Symphony Orchestra Concert: Beethoven and Mahler - Beethoven's Piano Concerto No 5 "Emperor", op. 73 and Mahler's Symphony No 4 in G Major
Events inquiries
musicevents@uwo.ca or 519-661-3767
Image: Pieces from the Gustav Mahler-Alfred Rosé Collection, housed in Western Library's Archives and Special Collections. (Photography and design by Chris Kindratsky/Western Communications)