Music Recording Arts student Nick De Souza earns International Portuguese Music Award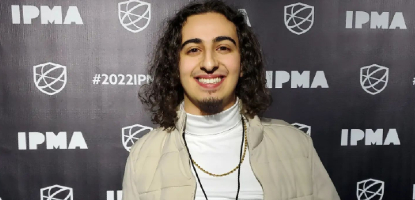 Congratulations to Music Recording Arts (MRA) student Nicholas (Nick) De Souza who was honoured at the 10th annual International Portuguese Music Awards (IPMA) as winner of Best Hip Hop/Rap Performance for his song Light Show.
The IPMA is an annual award ceremony honouring the best music recorded and produced by artists of Portuguese descent. On April 23, 2022, artists from around the world were represented at the Providence Performing Arts Center, a 3,100 capacity venue in the heart of Providence, Rhode Island which is the state with the highest percentage of Portuguese population in the United States.
The MRA program is a 5 year, compressed, collaborative program offered by Western and Fanshawe College. Students earn a Bachelor of Music (BMus) degree from Western and a two-year Ontario College Diploma in Music Industry Arts (MIA) from Fanshawe. 
Nick is a saxophone student in Bobbi Thompson's studio.
---
Related links
International Portuguese Music Awards