DMA piano student Connor O'Kane earns semi-final spot in 2019 Stepping Stone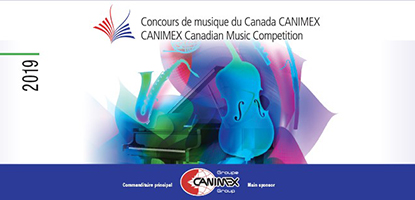 DMA student Connor O'Kane, piano, advanced to the semi-final round of the prestigious Stepping Stone 2019 as part of the Canimex - Canadian Music Competition. Only 30 young musicians (ages 16-28) from across Canada are invited to participate in the Stepping Stone and Connor was one of just 12 semi-finalists selected to perform on June 11. Congratulations to Connor for his semi-final finish! Connor is taught by Stéphan Sylvestre.
The Canadian Music Competition is a national organization working in the field of classical music with the goal of supporting and encouraging young Canadian performers. Through its work, the organization encourages musicians to surpass themselves, cultivate discipline and perseverance, sharpen their critical sense and discernment, develop their artistic personality, and grow as performers and human beings.
Since its foundation, the Competition has seen the participation of thousands of emerging musicians. Among these are some of the biggest names in today's national and international classical music scene: Marc-André Hamelin, Chantal Juillet, Louis Lortie, Martin Beaver, Marie-Nicole Lemieux, André Laplante, Gwen Hoebig, Susan Hoeppner, Stéphane Lemelin, Robert Silverman, Angela Cheng, Anne-Marie Dubois, Desmond Hoebig, Angela Hewitt, Janina Fialkoswka, James Ehnes and Gregory Charles, to name a few.
Related links
CANIMEX Canadian Music Competition
DMA – Performance degree at Western