Alumni Wall of Fame 2013
Congratulations to the 2013 inductees: Jeff Christmas, BMusA '91 and Darryl Edwards, BMus'83, BEd'84, MMus'93, who were honoured at the Alumni Awards Dinner on Friday, September 27, 2013. View photos on Flickr.
---
Jeff Christmas, BMusA '91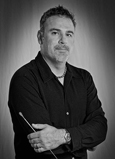 Classical. Rock. Jazz. Celtic. Performing. Arranging. Composing. Conducting. Teaching. Jeff Christmas is eclectic in his tastes and diverse in his musical career. "I love music, period," he says.
Christmas comes from a musical family. His grandfather was a jazz performer turned music teacher. His father Art followed a similar path, settling in Sarnia where he taught for many years and performed in and conducted several bands and groups. The Art Christmas Aggregation, which mounted musical performances throughout the year, was a major contributor to the town's cultural life. Christmas started arranging after watching over his father's shoulder. His mother is a singer, poet and lyricist.
Following a largely informal training in music, Christmas says his Western experience "filled in a lot of holes and introduced me to theories and ideas I would never had discovered on my own." It also introduced him to a wide variety of people and opportunities in music. Christmas pursued further education in film composition at the famous Berklee College of Music in Boston.
Christmas says being a drummer taught him to be versatile, and his CV certainly attests to that. He has performed with artists such as The Rankin Sisters, Ashley McIsaac, Michael Burgess, Randy Bachman, Burton Cummings, Tom Cochrane, Chantal Kreviazuk, and Phil Nimmons. Now a performer, arranger and conductor with the highly-successful Jeans and Classics franchise, Christmas also finds time for original composition. He recently produced a piece for the London-based Amabile Girls' Choir, with lyrics by his mother. "We call ourselves the Ira and George team!"
His orchestral works have been performed by orchestras across Canada. He composed music for the Opening Ceremonies of the 2001 Canada Games and has worked on several feature films and television programs as a composer and orchestrator. His first major film commission was for a hip hop score. "It was a stretch, but you soon find out that all music is connected in one way or another."
---
Darryl Edwards, BMus '83, BEd '84, MMus '93

Darryl Edwards, the son of a United Church minister, cut his musical teeth in churches across Ontario. Edwards sang in and conducted church choirs. He also learned about performing and teaching by watching his father in the pulpit. "He had good authority and was a fascinating preacher. I got tutored without knowing it." At high school in Woodstock, Edwards played in several bands and sang in choirs and the school musical.
At Western, Edwards studied music education, sang in choirs and performed in and conducted Gilbert and Sullivan Society productions. After Western, Edwards became a teacher at Saunders Secondary School in London, establishing a strong choral program, and becoming an assistant conductor with the Ontario Youth Choir. Gradually he re-discovered his love for solo singing, and came back to Western for a Masters in Performance. He completed a PhD at the University of Michigan.
Edwards chose to build his career by combining his passion for teaching with his love of performance. "Many people perform for years and then teach," he says. "I decided to do both at the same time to the best of my ability, and it's been a very rich experience for me."
He has appeared to critical acclaim in oratorio, recital and opera in Europe, the U.S. and Canada, including with the Montreal Symphony Orchestra, the Toronto Mendelssohn Choir, and the Heidelberg Bach Choir. He is Head of Voice Studies at the University of Toronto and Artistic Director of the Centre for Opera Studies in Italy (COSI), which he helped found. Edwards is proud of the achievements of his voice students, who regularly appear in leading roles with major companies and orchestras around the world.
Edwards is thrilled to be recognized by his Alma Mater. "Western was the making of me," he says. "It gave me so many opportunities to learn and so many opportunities to sing. It's always nice to know that the place you came from thinks well of you!"