The Solomon and Lent Family Fund in Experiential Learning in Music
Music donor's birthday surprise leaves a lasting gift to students in London community
When Western Law Professor Robert Solomon approached the Don Wright Faculty of Music about a surprise birthday gift for his wife, Dr. Barbara Lent, he didn't know exactly what form it would take. He wanted to tie in Barbara's commitment to music education and her interest in helping young people in the community. The result was The Solomon and Lent Family Fund in Experiential Learning in Music – an experiential learning opportunity for Western Music students to mentor or teach within a community non-profit organization, such as the Aeolian El Sistema program.

"It has been a great gift to the community," says Clark Bryan, BMus'90, MMus'92, Executive and Artistic Director, The Aeolian. "Students from the Don Wright Faculty of Music have been given opportunities to grow as teachers while gaining valuable insights and skills working with vulnerable communities. Participants in El Sistema Aeolian have benefited by the additional teaching and inspiration offered by this legacy gift. I'm so thankful to Robert Solomon and Barbara Lent, for their generosity and vision." 

Last year was not a typical year for the 2020/21 student recipients, Jeffrey Komar and Sara-Ann Birken, who had to adjust how they taught, since they couldn't be in person with their young students at El Sistema Aeolian.

"Since the pandemic began, music education has been severely impacted," says Komar, Western DMA student, Strings Instructor with El Sistema Aeolian. "We teachers needed to quickly pivot to different modes of instruction in the context of an all-virtual classroom - this is easier said than done! However, the financial support of the Solomon Lent Award allowed me to take the time I needed to properly communicate with my students while they were stuck in their homes. At El Sistema Aeolian, we shifted from a group-learning approach to a flexible, one-on-one teaching model, providing personalized support to each and every student. I also took the time to produce instructional videos about violin/viola technique to complement what we taught students in their lessons. As we transition back to some in-person activities, we El Sistema teachers plan on continuing to use these virtual resources to benefit the next generation of musicians!"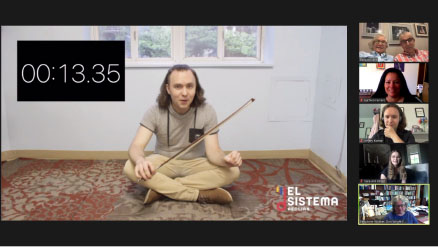 Meanwhile, Sara-Ann Birken worked as a choral instructor with El Sistema Aeolian, which culminated with her students performing virtually as a group. The production was a huge success, which can be viewed here.

Birken says the Award has meant the world to her.

"This Fund has given me the opportunity to conduct the virtual choir last year and will continue conducting in this upcoming year," says the 4th year Bachelor of Music student. "Growing up, music lessons and being involved in the arts were what I looked forward to each day and I would not be who I am without the teachers that I have had. This Fund has given me the opportunity to pass this on to the students at El Sistema and make an impact in their lives as my teachers did for me, because of this, I will be forever grateful to these generous donors." 
Solomon and Lent have been inspired by the award recipients' efforts and enthusiasm, and the positive impact that they have had on the El Sistema participants at all levels.  

"It's been a perfect coming together of the things we value and care about: kids and education," says Lent. 

They recently added to the fund to create a significant endowment that will support the experiential work of Western Music students for generations to come. 
---
Contact Information
Karmen Ferraro
Senior Development Officer
519-661-2111 x85695
karmen.ferraro@uwo.ca