Musical Futures Workshop
Not offered in Summer 2017. Please contact Audrey Yardley-Jones for graduate studies information: ayardley@uwo.ca
---
This certified two week course will develop and extend the skills of music educators working in all contexts. This engaging and hands-on workshop, open to all independent of familiarity with informal learning approaches, will provide the tools for participants to create sustainable, student-centred, 21 century music learning experiences using informal learning and non formal teaching.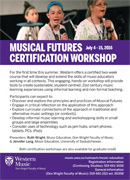 Musical Futures Postcard (PDF 49 KB)
Participants in this workshop can expect to:
Discover and explore the principles and practices of informal learning approaches
Engage in critical reflection on the application of this approach in participants' own teaching environments 
Explore curricular connections of the approach in both traditional and alternative music settings (or contexts)
Develop their own informal music learning and workshopping skills in small groups and large ensembles
Consider uses of technology such as jam hubs, smart phones, tablets, PCs, iPods and music software in musical futures projects (eg. songwriting, composition, performance)
Course Fee (2016): $695.00
Registration is now closed. We look forward to seeing all the participants on July 4!
This course is also available for graduate credit.  If you are interested in this option please contact the Graduate Assistant Audrey Yardley-Jones at ayardley@uwo.ca.
Biographies: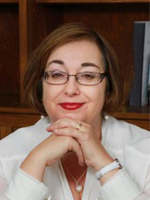 Ruth Wright is an Associate Professor in the Don Wright Faculty of Music, Department of Music Education, Western University, Canada.  She served as Chair, Music Education (2009 to 2013) and Assistant Dean, Research (2013-15) at this institution. Wright's earlier career included teaching high school music, maintaining a large private piano studio and lecturing in music education at the University of Wales Institute, Cardiff (now Cardiff Metropolitan University).  She received her PhD in Education from this institution in 2006. She views access to socially and culturally inclusive music education as a basic human right for all young people. She is the co-founder with Dr. Betty Anne Younker and Dr. Carol Beynon of Musical Futures Canada, an informal learning music program. Wright publishes regularly in books and refereed journals and is a speaker at national and international conferences. Her edited book Sociology and Music Education was published by Ashgate Press in 2010.
Jennifer Lang is currently an Assistant Professor in music education and director of choirs at the University of Saskatchewan.  Previously, she instructed choral conducting and music education courses at the University of Western Ontario.  Jennifer has also served as a program leader for vocal and instrumental secondary school music with the District School Board of Niagara teaching classroom voice, guitar, strings and instrumental music. Jennifer has been involved in the Musical Futures program since its introduction to Canada.  She initially served as the program coordinator for Musical Futures Canada before occupying her current role as the chair of the board of directors for the organization.  She particularly enjoys adjudicating Musical Futures classes in music festivals, in addition to offering professional development workshops and presentations at schools and conferences for the MFC program.
---
Accommodation and food are the responsibility of the participants. Various places to stay on and off campus are available at a reasonable cost.
London, Ontario
Located in the centre of southwestern Ontario, London is approximately two hours driving distance from Toronto and Detroit. The London International Airport offers direct flights to Toronto, Newark, Chicago, Ottawa and Calgary, as well as many other connections to several Canadian destinations.
For details about the region visit: http://www.londontourism.ca/
---
 Places to stay in London:
 Brescia Conference Services
Tammy McBane 519-432-8353 ext. 28212
http://atbrescia.com/accomodations/
Discounted Rates:
1) Queen bed, and private washroom (Clare Hall Private Room) $65.00/night plus HST.
2) Two private bedrooms with shared washroom running between (Clare Hall Conjoined Room)
    $95.00/night plus HST.
To receive the discounted rate please complete the registration form found using the link above and indicate you would like to be contacted to arrange payment (use promo code "Musical Futures" when booking)
Guest House on the Mount:
(519) 641-8100
http://guesthouseonthemount.ca/location.php
Current Rates Online:
       
Twin Bed, Shared Bath           $39.00
Twin Bed, Half Bath                $49.00
Queen Bed, Shared Bath       $59.00
Queen Bed, Half Bath             $69.00
Queen Bed, Full Bath             $89.00
2 Twin Beds, Half Bath            $69.00
2 Twin Beds, Full Bath            $89.00
Family Suites
3 Person, Half Bath                 $89.00
4 Person, Shared Bath           $99.00
Long term rates are available for guests staying one week or more. Please inquire.
Western Bed and Breakfast:
Emily directly at 519-661-2111 x 81215 for any questions
http://www.stayatwestern.ca/
Discounted Rate:
Single bedroom within a suite with 2 bedrooms - $55.00/bedroom/night +HST. (Bedrooms have 1 or 2 single beds) (select the single rate and use promo code "Musical Futures" under "Group" section)
Directions to Western: