Class of 2023: Music grad Emma Pennell raises their voice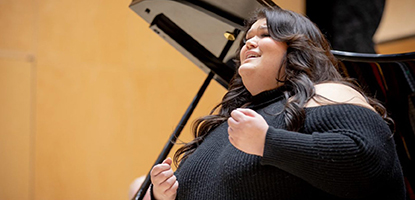 'I wanted to be in the room, loud and proud of who I am'
Emma Pennell remembers the day the email arrived, bringing big news.
It was a moment, Pennell, a two-spirit Mi'kmaw of Ktaqmkuk, had been dreaming of since arriving at Western four years ago.
A double take at the casting list confirmed it was finally happening.
They'd be performing as Alice Ford, a principal role in Opera at Western's production of Falstaff.
"The minute I realized I got the part, I squealed, because I wanted it for so long," Pennell said. "I'd seen others sing these roles for the past four years. I knew I wanted to be in that moment, on that stage, with the light on me, in costume.
"I started crying, did a little happy dance, and I called my grandma right away."
It was Pennell's grandmother, a singer and fiddle player, who cultivated their love of music growing up in South River, Ont.
Read full article (by Keri Ferguson, via Western News, June 20, 2023)
Photo: Christopher Kindratsky/Western Communications