Denis Jiron to join Western as Assistant Professor of Trombone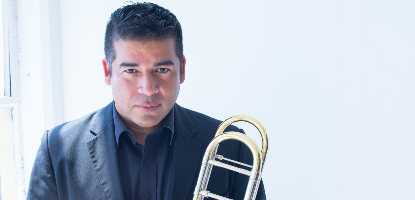 We are delighted to announce that the Music Performance Studies Department of the Don Wright Faculty of Music has appointed Dr. Denis Jiron as Assistant Professor of Trombone effective July 1, 2022.
Dr. Jiron will bring a wealth of expertise to our faculty and enhance our offerings through his rich and diversified expertise.
Dr. Jiron is a native of Los Angeles, California and enjoys a varied career that includes performing with symphony orchestras, pop acts, Afro-Cuban/salsa artists, TV shows, big bands, and education. Dr. Jiron was appointed acting-2nd trombone of the Los Angeles Philharmonic from 2017-2018. He has also held positions with the Riverside Philharmonic (Principal Trombone) and the Hofer Symfoniker (2nd/1st Trombone) and has been guest trombonist with the LA Opera, Sapporo Symphony, Philharmonie Luxembourg, Pacific Symphony, and Detroit Symphony orchestras. He is currently principal trombone of the Jackson Symphony and Midland Symphony orchestras.

He has also appeared with many artists and shows, including: Stevie Wonder, Aretha Franklin, Queen Latifah, Kanye West, Andrea Bocelli, Sting, Gladys Night, Chris Botti, The Voice, American Idol, The Ellen Show, The Tonight Show, American Music Awards, Amanda Miguel, Diego Verdaguer, The Midnighters, Budman/Levy Jazz Orchestra, Al McKay-Earth Wind and Fire Experience, Tito Nieves, Eddie Santiago, Jimmy Bosch and many others. In 2004 he founded and directed the Afro-Cuban orchestra, Rumbankete, which released its first album in 2011.

He has held adjunct trombone professor positions at California State University Los Angeles and California State University San Bernardino. Denis earned his BM degree from California State University Northridge and his MFA degree from California Institute of the Arts, as well as studying at the Staatliche Hochschule für Musik Trossingen and later the Hochschule für Musik und Datsellende Kunst Mannheim. Dr. Jiron earned his DMA degree from Michigan State University as a University Distinguished Fellow. Denis Jiron is a Conn-Selmer (Vincent Bach) Performing Artist.
View Denis Jiron's YouTube Channel
---
ADDED AUGUST 2022 (article via Western News)
Denis Jiron joins Western as professor of trombone
From West Coast to Western, trombone player Denis Jiron's musical road has been long — and also high and wide.

Along the way, the newly minted professor in the Don Wright Faculty of Music has formed his own Afro-Cuban salsa orchestra, played with the Los Angeles Philharmonic and shared a stage with pop greats from Stevie Wonder and Aretha Franklin to Kanye West and Sting.

As he steps into a teaching role here in London and launches two new course offerings, Jiron remembers his own musical mentors, who were session musicians in the Los Angeles recording scene in the 90s.

"At that time, LA was the capital of studio recording. It was the epicentre, and it was amazing," said Jiron, who grew up in LA. "I got to learn from multi-talented working musicians who became mentors and friends."
Read full article (August 25, 2022)