Darren Hamilton, MMus'16, named 2022 MusiCounts Teacher of the Year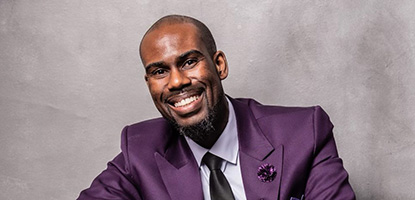 Congratulations to Music Education Master's grad Darren Hamilton, MMus'16, who was named the 2022 MusicCounts Teacher of the Year. The award was established in 2005 to recognize and honour an exceptional Canadian music teacher each year.
To date, this award has celebrated the accomplishments of 17 music educators across Canada, including fellow alumna Laura Lee Matthie, BMus'94, BEd'95, who strive to preserve the livelihood of music education in their school and community. This prestigious national award recognizes an inspirational Canadian music educator's impact on students and music education.
Darren believes that music education should be diverse and inclusive, and should reflect the student populations that schools serve. He uses music education as a tool to teach social justice issues, and co-authored the recent 2022 MusiCounts Learn resource #BlackMusicMatters: Hip-Hop & Social Justice in Canada. The free teaching resource includes cross-curricular lesson plans for educators teaching music, English, geography, history, visual arts, and social sciences, to help them bring Black culture, history, and creativity into the classroom through the lens of hip-hop music. It aims to introduce students to Canadian hip-hop artists and music while engaging them in a critical inquiry of a variety of social justice themes.
JUNO Award-winning and 3x JUNO-nominated rapper and singer TOBi announced Darren's MusiCounts Teacher of the Year Award at the 2022 JUNO Awards in Toronto. Darren is the recipient of a $10,000 cash prize, a significant contribution towards the music program of David Suzuki Secondary School (DSSS), and a JUNO statuette.
In addition to his role at DSSS, Darren is a PhD candidate at the University of Toronto, focusing on Music Education and gospel music. He teaches a course on gospel music at U of T to provide access to different forms of Black music at the post-secondary level.
Read full announcement (via musicounts.ca, May 16, 2022)
Photo (via musicounts.ca): Darren Hamilton, winner of the 2022 MusiCounts Teacher of the Year Award, presented by the Canadian Scholarship Trust Foundation
---
Western alum uses music education to teach social justice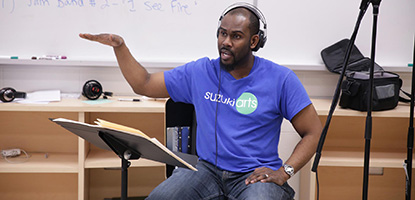 "My role as a teacher isn't just about teaching students music in the classroom but being able to see some of these gaps that existed in music education, and how I, as a music teacher who has these research skills that I've developed through my graduate work at Western, can use those skills and put them into work to advocate for curricular changes," Hamilton said.
Read full article (via Western News, May 26, 2022)
---
Videos
2022 MusiCounts Teacher of the Year feature profile – Darren Hamilton
Tobi presents Teacher of the Year award to Darren Hamilton at the 2022 JUNO Awards
---
Related Links
Western's JUNO connections