Joseph Phillips collaborates on tango film for Valentine's Day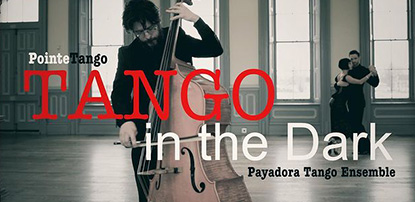 Photo credit: PointeTango website
A collaboration between London's Payadora tango ensemble and PointeTango, a dance duo that combines ballet training with tango dancing, has produced "Tango in the Dark", a film to be released on Valentine's Day.

Don Wright Faculty of Music lecturer and double-bass player Joseph Phillips is a member of Payadora. He explained that what was initially planned as a live concert had to be reimagined as a video project, due to COVID-19.

"Valentine's Day seemed like the perfect day to share this passionate and romantic music and dance," notes Phillips.

"The music includes classic tangos and milongas, transcribed or arranged by myself and the other musicians, as well an original composition by our violinist, Rebekah Wolkstein."

To stream the online premiere on Sunday, February 14, visit PointeTango Dance Company.
Related Links
Music Performance Studies at the Don Wright Faculty of Music
Payodora tango ensemble
PointeTango dance company
"Tango in the Dark" online premiere