FIMULAW 2019: Interdisciplinary connections forged at Research Day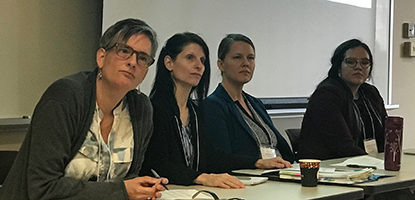 Graduate students and professors from the faculties of Information and Media Studies (FIMS), Music, and Law at Western discovered interdisciplinary connections at a research day held March 22, 2019 at Western Law.
The 2019 FIMULAW conference provided numerous opportunities for participants to forge new connections.
In a networking research "speed dating" event, participants shared research ideas and explored possible connections in a fast-paced and friendly environment. A digital poster session provided additional opportunities for student researchers to engage with others and obtain one-on-one feedback on their work while Music Education PhD students Caroline Blumer and Kyle Zavitz provided a musical performance.
With the support of Western Libraries and Scholarship@Western, an open access journal has been created to host programs, posters, multimedia ephemera, and papers affiliated with the research day proceedings.
Read full article (Western Law, Apr. 3, 2019)
Related Links
Don Wright Faculty of Music - Research
Don Wright Faculty of Music - Graduate Studies
Photos
Photos courtesy of Western Law