Popular Music Studies grad Patrick Dal Cin recorded Top 20 iTunes charts hit in Talbot College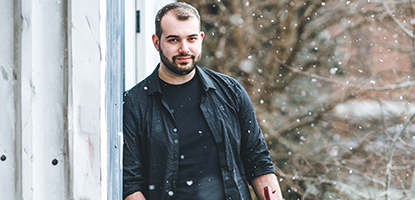 Viewers of CTV's The Launch will already know the tremendous talent of Poesy (a.k.a. Western grad Sarah Botelho) as a singer and songwriter. Her success began at Western, with the help of many Don Wright Faculty of Music friends, musicians and faculty. Together they produced an iTunes Top 20 pop chart album that was recorded in Talbot College in 2016. The Spotless Mind EP entered the iTunes charts a few days after Posey's Soldier of Love single - written and produced by Stephan Moccio, BMusA'94 - was launched.
Patrick Dal Cin, BA (Popular Music Studies)'15, originally from Sault Ste. Marie, Ontario, co-produced, arranged, edited, mixed and played bass guitar on The Spotless Mind EP. He would often talk with Sarah about the feel of what she was looking for in the songs, and then work out a way of bringing her vision to life in an effective and impactful way. He helped select the musicians who played on the EP - all Music alumni or students at the time: Josh Try (electric guitar), Mark Swan (percussion), plus session musicians Matt Hache and Patrick Theriault - and worked with the musicians on nuances and variations to apply to their performances. He also put together the production of the recording. Patrick tracked the bass guitar last, to fill in all the remaining gaps in the recordings.
The EP was recorded in Talbot College 345 after hours and between classes and mastered by faculty member Professor Jay Hodgson. In Patrick's own words, "Without Jay, this project would have never happened. End of story. He taught me everything I know about music production, and gave me the skills to even fathom doing this recording. Even after graduation, Jay shows a genuine concern in all of his students and what they're up to. My independent study with him in my final year gave me a trial run to correct all of my mistakes for Sarah's EP. I learned from where I failed, a true academic experience and study, and applied that knowledge to make Sarah's EP great. Jay actually used his expertise and mastered the EP for free to give the project an edge in the industry. We wouldn't have gotten far without Jay and his incredibly kind heart for allowing us to use his space."
Dal Cin watched in amazement as the self-produced, non-label released EP began to climb steadily into the iTunes Pop Charts and eventually reached the Top 20. It was the sheer momentum Poesy had generated with her TV performances and Soldier of Love.  Eventually, The Launch team published an article on their website highlighting Poesy's original music. She told Dal Cin that "many people were quite impressed with the production and asked which studio we recorded it in, to which her response was "A classroom, my kitchen table, and a few basements.""

Patrick Dal Cin will appear on CTV's The Launch season finale on February 21, 2018, to briefly talk about their beginnings.
Photo credit: Chelsea Brimstin Photography
Image: Screenshot of The Spotless Mind EP on iTunes Top 20 Pop Charts in early February 2018

---
Related links
'Launch' catapults grad's career to new level (via Western News, Feb 8, 2018)
Popular Music Studies (BA) program at Don Wright Faculty of Music