Musicology PhD Candidate Mackenzie Enns in Top 25 of SSHRC Storytellers Challenge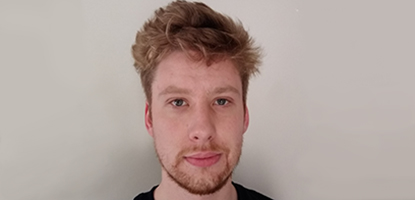 Congratulations to Musicology PhD Candidate Mackenzie (Mack) Enns, one of three Western University finalists in the Top 25 of this year's SSHRC Storytellers Challenge. His submission is entitled "Game Scoring: Software Programming and/as Aleatoric Composition."
Mack moved from his hometown of Winnipeg, Manitoba, to study game scoring, or the act of composing music for and through gaming. He has pursued this interest since 2013, when he delivered a paper on game scoring at the Innovation in Music conference in York, United Kingdom. His paper was selected for publication in Innovation in Music 2013, a compendium of proceedings from the conference.
In his spare time, Mack performs visual accompaniment for music concerts in Toronto and London, Ontario, using software developed for Nintendo systems from the 1980s and 90s.
SSHRC's annual contest challenges postsecondary students from across the country to tell the story—in three minutes or 300 words—of how SSHRC-funded research is making a difference in the lives of Canadians. The top entries this year address a range of important issues, including children's health, education, gender identity, immigration and integration. The stories highlight how knowledge about the social sciences and humanities helps Canadians understand and improve the world.
"In communicating their research stories, our talented finalists have masterfully informed us about key issues that impact our society. In doing so, they have effectively demonstrated the value of social sciences and humanities research, offering critical insights into modern social, cultural, economic and wellness issues that Canadians value," said SSHRC President Ted Hewitt. "Congratulations to SSHRC's 25 Finalists!"
The Top 25 Storytellers represent 15 postsecondary institutions across Canada. The finalists were selected from among nearly 200 entries by 18 expert judges from Canada and abroad. Each finalist receives a cash prize of $3,000 and the opportunity to compete in the Storytellers Showcase. This year's Showcase will be held at the 2018 Congress of the Humanities and Social Sciences, taking place May 26 to June 1 at the University of Regina.
Related links
SSHRC Media release (Ottawa, April 19, 2018)
The Storytellers - Meet the Top 25 (SSHRC)
Listen to submission on YouTube (3:02 min)