Composer Sarah Quartel, BMus'05, BEd'06, signs with prestigious Oxford University Press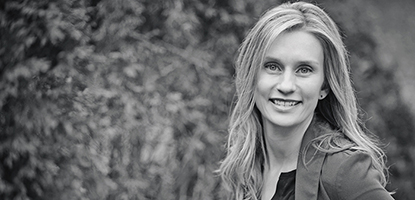 As a pre-schooler, Sarah Quartel found music everywhere, even in the tuneless rattle of the refrigerator. "I used to sing along with the hum of the appliances and create melodies and harmonies from what I heard."
Today, Quartel, BMus'05, BEd'06, is one of Canada's rising stars in choral composition, with commissions from around the world and, now, a new contract as Major Composer with the prestigious Oxford University Press (OUP). The signing confirms Quartel among the elite as OUP's youngest Major Composer, its only Canadian and one of just two women.
"It's a dream come true," said the 34-year-old Quartel, noting the publisher's commitment to music and musicians, its business savvy and an international reputation for excellence. The contract with Oxford dramatically expands the exposure her work receives by choral ensembles of all kinds.
When she tells fellow composers of her Western experience, they marvel she received such detailed critiques as an undergraduate, something their schools offered only at the master's or PhD level.
Read full article (Western News, January 25, 2018)
Photo: Sandra Dufton
Related links:
Oxford University Press: Sarah Quartel
Oxford Academic (Oxford University Press): Sarah Quartel: Early Beginnings - YouTube
Music Research and Composition at Western
Meet the Music Composition Faculty