Alumna Celina Di Cecca, BMus'08, fiddles while career burns bright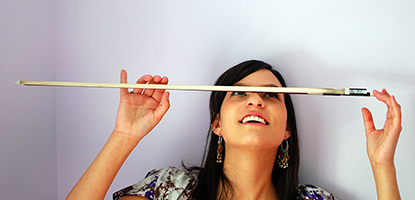 From creating and running her own website, social media and booking gigs, to acting as agent, promoter, musical director and performing, Celina Di Cecca, BMus'08 (Music Education) is a hands-on CEO of her 'mini corporation.'
"It is hard work some days. But I love it and wouldn't want to do anything else," said the Don Wright Faculty of Music alumna. "Music is my religion. It moves me; it's very cathartic; it's therapeutic to get you through good times and bad times. You always have music with you."
It was during her time at Western where she first started to dabble in songwriting, having written dozens of songs over the years. With plans to record all of the music she wrote, Di Cecca recently released her debut single, Waiting.
Her most recent creation is producing, directing and performing in The Great Canadian Fiddle Show, which has played Canada's Wonderland, the Canadian National Exhibition, the Grey Cup and countless tours over the last five years.
Di Cecca will be bringing her Great Canadian Fiddle Show to London's Aeolian Hall March 17 for a pair of shows and looks forward to sharing what she calls "a musical journey from coast to coast" of traditional Canadian fiddling.
Read full article (Western News, November 16, 2017)
Photo: Sara Froese
Related links
https://www.celinamariemusic.com/
https://www.youtube.com/user/celinadicecca
https://www.celinamariemusic.com/great-canadian-fiddle-show
http://aeolianhall.ca (Mar. 17 - 2:00 p.m.)
http://aeolianhall.ca (Mar. 17 - 8:00 p.m.)
Music Education Department at Western
Meet the String Faculty at Western