Two alumni in COC Ensemble Studio Competition Finals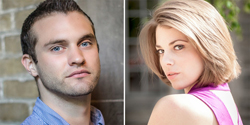 Two alumni are among eight finalists in the Canadian Opera Company's Ensemble Studio Competition: Marjorie Maltais (mezzo-soprano), student of Ted Baerg and Sophie Roland, and Zachary Read (baritone), student of Todd Wieczorek. The finalists will perform at the Four Seasons Centre in Toronto on November 3, 2015.
The annual Ensemble Studio audition process, open only to Canadian citizens and permanent residents, takes COC artistic staff across Canada and into the U.S. for preliminary auditions in Vancouver, Montreal, Toronto and New York, followed by a final callback audition at the COC's Joey and Toby Tanenbaum Opera Centre in Toronto. It's from this pool of singers that finalists are selected for the Ensemble Studio Competition.
Competition website: http://coccentrestage.ca/
Finalists: http://coccentrestage.ca/finalists/