Annual Graduate Symposium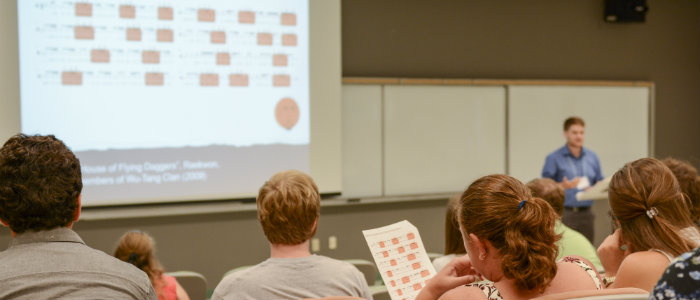 The Society of Graduate Students in Music at Western University is pleased to announce its 18th annual Graduate Symposium on Music, which will be held August 25-26, 2017. 
This year, our keynote speaker will be Dr. Julie Pedneault-Deslauriers (Music Theory) from the University of Ottawa. The symposium is also excited to feature the addition of a workshop. This year, Dr. Jonathan De Souza will be leading a workshop entitled: "Musical Instruments and Embodied Performance."
In its 18th year, the Western University Graduate Symposium on Music (WUGSOM) features graduate student papers from all across North America, ranging in topics from music theory, musicology, music education, ethnomusicology, composition, and performance. The symposium is an opportunity for graduate students to present their current research and to be exposed to the current research of their colleagues in music research, composition, and performance.
Call for Papers:
The program committee invites graduate students of all disciplines to submit proposals for papers on any aspect of music, including but by no means limited to music theory, musicology, ethnomusicology, music cognition, music education, composition, and performance. We welcome papers on any topic, and encourage a diversity of excellence in research across many fields. The deadline for submission is May 31, 2017 at 4:00pm EST.
Presentations are limited to 20 minutes, with a 10-minute question period. All submissions must include the title of the paper and a proposal not exceeding 350 words. Proposals should not include supplementary materials or figures and should not include your name or other identifying information. Please send submissions in MS Word format (.doc or .docx) to wugsom2017@gmail.com. In your cover email, please include your name, institutional affiliation, year in program, preferred email address, phone number, and required equipment for the proposed presentation.  
Workshop: Musical Instruments and Embodied Performance
Though music itself is invisible and intangible,instrumental performance involves concrete objects and actions, which might be seen by audience members or felt by players. How, then, might instruments and bodies mediate musical organization and meaning? How is sound supplemented by visual or corporeal aspects of body-instrument interaction?
This workshop will explore interdisciplinary perspectives on instruments and embodiment—from ethnomusicology, historical musicology, music cognition, music theory, and the philosophy of music. Drawing on these approaches, participants will also investigate materialities of performance in classical, popular, and non-Western music examples.
Applicants for the graduate student workshop should email wugsom2017@gmail.com with a cover email (see above) and a brief statement about their research interests and background. Workshop space is limited to 15 participants, and participants will be selected by random draw from the pool of eligible applicants. 
For the official CFP and additional information, please see http://sogsim.com/conference-2017/
Past Events:
Our Annual Graduate Symposium, organized by our doctoral students, draws presenters from across North America and the UK.