Concert Brochure
2017-2018 Concert Brochure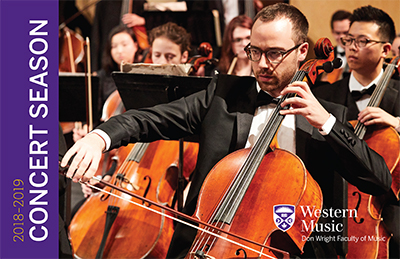 Welcome to the 2017-2018 season!
Printed copies were in the mail to all those on our mailing list in mid-August. Didn't receive your copy? Want a copy of your own? Picked one up for this year but want to get a copy in the mail next year? Request your copy and send your mailing address to musicevents@uwo.ca. If you used to receive it at a different address, please let us know so we can keep our records current.
Corrections and Schedule Changes
Page 16 ("October") - A second Symphonic Band (SB) concert was mistakenly added to our calendar section of the concert brochure. There is no SB concert on October 25. October 18 (12:30 p.m., PDT) concert is correct.
Page 15 ("Masterclasses") - Joe Lulloff was mistakenly added to the masterclass listing. Instead, it should be Clarinet and Saxophone Day guest artists Jonathan Nichol and Jeffrey Loeffert (h2/4 duo). 
Stay up to date
At least twice as many recitals and performances take place each year than are printed in our annual concert brochure. And of course, schedule changes are expected. Here are more ways to find out about upcoming events and to double check if recital times have changed: