New Horizons Adult Band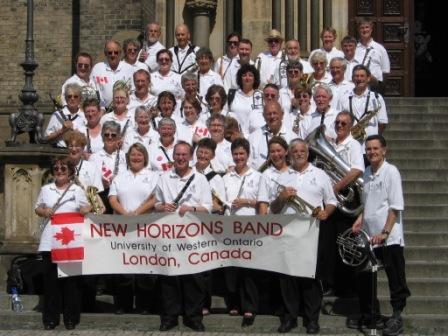 Winter program: Winter 2018 Registration Form (includes all dates/fees) - first session Jan 6, 2018:
Additional Sessions and Forms (Monday and Thursday ensembles) - first sessions Jan. 8 and 11, 2017:
Join the New Horizons Adult Band if you want to:
learn how to play a band instrument
brush up your playing skills from the past
meet new people
have a whole lot of fun
The program provides instruction to adults wishing to learn (or re-learn) to play wind or percussion instruments:
flute
oboe
clarinet
saxophone
bassoon
trumpet
french horn
trombone
euphonium
tuba
percussion
Western's New Horizons Adult Band Program, established in 1999, is modeled after similar programs in the United States and is sponsored by the Don Wright Faculty of Music. Currently, there are more than 50 such bands operating in the United States and Canada.
Western's program was the first New Horizons Band in Canada, and remains one of the largest programs of its kind in North America.
Why join?
Research shows that playing a musical instrument can be good for your health:
develops fine motor control skills
improves breath control
renews a sense of purpose
helps make new friends
expands your musical interests 
Want more information?
Please leave a message at 519-661-2111, ext. 82974 and someone will get back to you as soon as possible. Or visit us in the Music Building on a Saturday morning (between 9 a.m. and 1 p.m.).
What do we do?
We meet Saturday mornings 9 a.m. and 1 p.m. in the Music Building Map (PDF, 336 KB) (at the corner of Lambton and Perth).
Courses run during the academic year (September through early April) with a summer session offered in May and June.
There are small and large class instruction with four levels of instruction designed to provide the most appropriate level of instruction.
Beginners:
No previous experience or note-reading ability required.
You can rent or purchase instruments.
Intermediate:
Some prior musical experience or taken our beginning class.
One hour of band and one hour of sectional (focusing on your instrument with others at your playing level).
Advanced:
Participated in the program for more than two terms
or previous musical background on the instrument
Two advanced band classes. One of 90 minutes of band with an hour sectional; the other with two and a half hours of band but no sectionals.
Each advanced band has opportunities to perform throughout the term.
In past summers, the combined advanced bands have toured Europe together having 10 fun music-filled days in Budapest, Prague and Vienna.

 Frequently Asked Questions for New Horizons Band.
Contact Information
---
Coordinator, New Horizons Adult Band
Brenda Smith
Phone: 519-661-2111 x82974
Email: bsmit32@uwo.ca