PhD in Music Education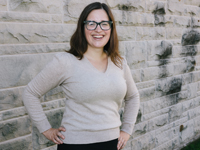 "I was attracted to Western for three reasons: the large music education department, the financial support and care for graduate students, and the adventure of studying abroad."  Alison Butler, PhD Candidate, Music Education
Learn more about Alison Butler and our PhD program
Program Requirements (revised Fall 2018)
Theories of Music Education (Music 9640a/b/y)
Philosophical & Historical Inquiry (Music 9641a/b/y)
Qualitative Research (Music 9651a/b)
Quantitative Research(Music 9652a/b/y)
3 elective courses in music education
Doctoral Seminar in Music Education
Qualifying Examination
Dissertation Proposal Defense
Dissertation and Oral Defense
Each PhD student in music education will have a Faculty Advisor at the outset of the program who will confirm the student's course selection and serve as a resource for the student.
The dissertation proposal and dissertation itself will be written under the supervision of a dissertation supervisor and second reader.
For further details about PhD program requirements, please consult the Graduate Handbook.
Timeline for Progression

*Students are encouraged to take at least one of their electives outside of the Faculty of Music.
Notes:
Students are encouraged to develop their topics for each of the 2 Qualifying Examination papers (Literature/Theoretical Framework and Methodology) throughout Terms 3, 4 and 5. Consultation with faculty is highly encouraged.
By May 1 (start of Term 6), each student should have a confirmed dissertation supervisory committee (normally a dissertation supervisor and a second reader). The dissertation supervisory committee will determine a deadline for submission of the Qualifying Examination papers. The dissertation proposal should follow from the Qualifying Examination.
The Dissertation Proposal Defense should be completed as early as possible in Term 7, following successful completion of the Qualifying Examination.