Western University Wind Ensemble
Evolving from the Symphonic Band, the Western University Wind Ensemble was established by Jerome Summers in the 1980s. Acknowledged as one of the finest wind bands in Canada, the Wind Ensemble is indebted to the leadership of past conductors: Donald McKellar, James Ford, Charles Dalkert, Wayne Jeffrey, Jerome Summers, David McKinney, and Gary McCumber. With the appointment of Dr. Colleen Richardson, in 2006, the Wind Ensemble continues its journey towards excellence in performance and wind band education.
The Wind Ensemble is open to all Western Students. An audition is required for participation. Repertoire is selected from standard wind ensemble literature, works for chamber ensembles, transcriptions, concerti, and contemporary works. Although core repertoire is the largest programming component, ensemble members will periodically be exposed to iconic wind chamber music, ranging from the antiphonal music of Gabrieli or Classical Period Harmonie music, to the masterpieces of the twentieth and twenty-first centuries. Transcriptions are an important part of the history of the band, especially within the military and professional band traditions, and these are honoured through the performance of selected works. Concerti feature faculty, guests, or students. Students are selected through a competitive process.
Auditions:
Audition required. Open to all Western students. Complete information and audition excerpts can be found here.

All wind, brass and percussion students planning to audition for this ensemble should complete and bring this form to their audition.
Repertoire:
Rehearsals:
Mondays and Wednesdays, 3:30 p.m. - 5:20 p.m.
View course outline for more information or visit the MPS general ensemble information page.
2018/2019 Concert Season:
All concerts in Paul Davenport Theatre, Talbot College
Homecoming: Past and Present
Friday, October 19, 8:00 p.m.
Welcome back, alumni! The Symphonic Band shares the Wind Ensemble's first concert of the season, which pays homage to masterworks by Shostakovich, Holst, and Gilmore, as well as feature Frank Ticheli's Angels in the Architecture and James David's Big Four on the River. Featured soprano: Jennifer Cyr, DMA student.
One Life Beautiful
Tuesday, November 27, 12:30 p.m.
Along with the Canadian premiers of Gregory Fritze's Pershing and Roy Magnuson's House Plants in Terracotta Pots, the Wind Ensemble will perform works by Julie Giroux, Norman Dello Joio, and Dan Welcher.
Passion and Patronage
Thursday, February 14, 12:30 p.m.
The Wind Ensemble's first concert of the new year will feature vibraphonist Quincy Doenges, the Wind-Brass-Percussion Concerto Competition Winner, as well as Donald Grantham's work Court Music. Works by Japanese composer Yo Goto and Spanish composer Luis Serrano Alarçon will round out the program.
Human; Nature
Friday, April 5, 8 p.m.
Western is excited to welcome back alumnus, and sought after tuba player, Jarrett McCourt to perform Hogsted's arrangement of Nelson's Metallephonic Remix. Jarrett currently splits his time performing with the Winnipeg Symphony Orchestra and the Civic Orchestra of Chicago. Other composers featured on the Wind Ensemble's final concert of the season include: Koh, Husa, Vilaplana, and Maslanka.
Recordings: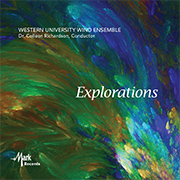 Explorations:
Recorded over three academic years, the latest recordings released by the Western University Wind Ensemble was produced by Mark Records. Available on
iTunes
.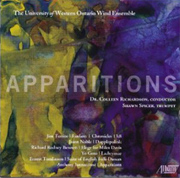 Apparitions
by the Western University Wind Ensemble is on
Albany Records
and available at
Amazon.ca
and
iTunes
.