Irene Tandberg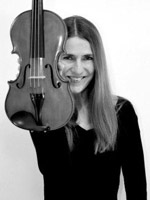 Lecturer
Violin
Office: MB 309
Phone: (519) 661-2111 x85619
Email: itandber@uwo.ca
Violinist, Irene Tandberg's career as performer and pedagogue spans over three decades. She has established a vibrant private studio where students have been honoured with many prestigious scholarships and awards, obtained positions at notable international & domestic schools & orchestras, and pursued distinguished solo careers.
In 1991, together with her two youngest children, Irene was drawn to the vitality of music making within Forest City School for Talent Education and its Founder/Director, Patrick Burroughs.
Currently, Irene is the Co-Director of FCTE and, in collaboration with Prof. Burroughs, she has developed the school's artistic direction, the administration of the program and cultivated many initiatives and projects enriching the student experience. In addition to these roles, she is devotedly immersed in teaching master/group classes, coaching chamber groups and conducting ensembles. She also oversees FCTE's partnering with Western in Community Engaged learning, Pedagogy Course mentorship and Western 360. 
Irene was born in Denmark. Her first teacher was her grandfather, Wolf Notkin (a member of the Royal Danish National Symphony Orchestra), who is to be credited with nurturing her deep love of music and the sound of her violin. In later years her principal teachers were Gwen Thompson and Dana Mazurkevich at the University of Western Ontario. Irene then went on to follow her passion and vocation for performance and teaching, with pedagogues Richard Lawrence, John Kendall, Elaine Klimasko, Tom Wermuth and pursued Suzuki teacher training.
Past recordings and performances reflect an eclectic range of engagements on Modern and Baroque violin. She has had the privilege to perform in core, principal and solo positions with many fine orchestras and chamber groups including L'Harmonie Universelle, Nota Bene and Arcady. She is the founder of the quartet, Octo Mani.
Irene is a vastly experienced and fervent pedagogue who has both written and given invited talks on performance, teaching and practice strategies. She is also a very active and highly sought after master class teacher, clinician in workshops and adjudicator in festivals, music programs and teaching institutions across Canada.
In addition to running her private studio and Co-Directing FCTE, she is a faculty member in the Performance Department at the University of Western Ontario, where she is the recipient of the student council "Award of Excellence" in teaching.