Kodály Certification program

This summer Western University welcomes back the Kodály Certification program! This two-week, Level I program offers musicianship and pedagogical engagements based on the methodology of Zoltán Kodály. We invite music educators from all over the world to join us as we strengthen our musicianship as we make music together.

Participants will engage in supportive musically educative opportunities through singing, reading, writing, moving and creating to build personal skills and knowledge to assist in classroom music teaching and learning.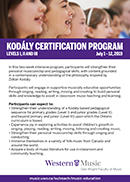 Kodály Level I Postcard (PDF 497 KB)

July 2-14, 2017

July 2: Registration from 12:30 - 1:00 p.m.
First day of course: 1:00 p.m. - 4:00 p.m.
Evening welcome party

July 3 classes begin - 8:30am - 4:30pm
Organized evening activities throughout the 2 weeks

(Weekends free)
Participants in Level I can expect to:
Strengthen musicianship though singing and conducting
Immerse themselves in folk music from all over the world
Acquire a body of literature for use in teaching
Find joy and expressivity though solfege
Learn Level I Kodály sequencing
Create Materials to bring back into the classroom
For further Information contact
Cathy Benedict - cbenedi3@uwo.ca

Faculty:
Dr. Kim Eyre
M Mus Holy Names University
Diploma Kodály Pedagogical Institute Hungary
PhD University of Toronto
Schulich School of Education, Nipissing University (retired)
Dr. Cathy Benedict
M Mus Holy Names University
M.Ed. Curriculum and Teaching, Teachers College Columbia University
Ed.D Curriculum and Teaching, Teachers College Columbia University
Don Wright Faculty of Music – Director of Research, Assistant Professor
Course Fee: $695.00
This course is also available for graduate credit.  If you are interested in this option please contact the Graduate Assistant Audrey Yardley-Jones at ayardley@uwo.ca.  
Biographies: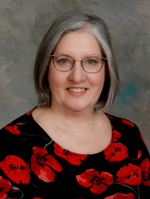 Kim Eyre is enjoying her new status as a musically engaged private citizen as she continues her passionate advocacy for music education. She was privileged to serve as a music educator for 32 years in elementary schools in London, ON, The Faculty of Education, Western University and concluded her career at The Schulich School of Education, Nipissing University. Her degrees include: Doctor of Philosophy (University of Toronto), Diploma (Zoltán Kodály Pedagogical Institute of Music, Kesckemét, Hungary), Master of Music (Holy Names University, Oakland, California), and Bachelor of Education and Bachelor of Music (University of Western Ontario). Kim is a Past-president of the Kodály Society of Ontario and the Kodály Society of Canada. She is a frequent presenter at local, provincial, national and international music conferences. She has also instructed at summer courses at Wilfrid Laurier University and the University of Alberta. Kim's primary research interests include identity formation and reformation of pre-service and in-service elementary specialist and generalist music teachers and a reimagining of Kodály music education in Canada.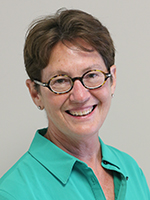 Cathy Benedict joined the music education faculty at Western University in July 2015. She has taught undergraduate and graduate classes such as Elementary Pedagogy, Orff, Curriculum Design, Critical Readings in Music Education and Music Education and Special Needs Students Her scholarly interests lay in facilitating music education environments in which students take on the perspective of a justice-oriented citizen, to this end her research agenda focuses on the processes of education and the ways in which teachers and students interrogate taken-for-granted, normative practices. She has presented multiple workshops to both national and international audiences on topics as varied as pedagogy and pride, thinking transitions rather than classroom management, the interrogation of classroom rules as policy, the social contract and utopian visions, and music in the elementary classroom and integrated practices. She has written numerous chapters and published in such journals as Philosophy of Music Education Review, Music Education Research, and Research Studies in Music Education, Music Educators Journal, Canadian Music Educator, and most recently co-edited The Oxford Handbook of Social Justice and Music Education (Oxford University Press). Previous to her college teaching she taught elementary music for 15 years, studied choral conducting with Dr. George Lynn of Westminster Choir College, Doreen Rao, and conducted various children's choirs, including the 2015 Miami Dade All County Elementary Chorus and the most recent 2015 Training Choir during The Singing Network – Newfoundland. 
 Please register online by June 1, 2017 to ensure your place in this program.
---
Accommodation and food are the responsibility of the participants. Various places to stay on and off campus are available at a reasonable cost.
London, Ontario
Located in the centre of southwestern Ontario, London is approximately two hours driving distance from Toronto and Detroit. The London International Airport offers direct flights to Toronto, Newark, Chicago, Ottawa and Calgary, as well as many other connections to several Canadian destinations.
For details about the region visit: http://www.londontourism.ca/
---
 Places to stay in London:
 Brescia Conference Services
Tammy McBane 519-432-8353 ext. 28212
http://atbrescia.com/accomodations/
Discounted Rates:
1) Queen bed, and private washroom (Clare Hall Private Room) $65.00/night plus HST.
2) Two private bedrooms with shared washroom running between (Clare Hall Conjoined Room)
    $95.00/night plus HST.
To receive the discounted rate please complete the registration form found using the link above and indicate you would like to be contacted to arrange payment (use promo code "Kodaly" when booking)
Guest House on the Mount:
(519) 641-8100
http://guesthouseonthemount.ca/location.php
Current Rates Online:
       
Twin Bed, Shared Bath           $39.00
Twin Bed, Half Bath                $49.00
Queen Bed, Shared Bath       $59.00
Queen Bed, Half Bath             $69.00
Queen Bed, Full Bath             $89.00
2 Twin Beds, Half Bath            $69.00
2 Twin Beds, Full Bath            $89.00
Family Suites
3 Person, Half Bath                 $89.00
4 Person, Shared Bath           $99.00
Long term rates are available for guests staying one week or more. Please inquire.
Western Summer Accomodation:
Emily directly at 519-661-2111 x 81215 for any questions
http://www.stayatwestern.ca/
Discounted Rate:
Single bedroom within a suite with 2 bedrooms - $55.00/bedroom/night +HST. (Bedrooms have 1 or 2 single beds) (select the single rate and use promo code "Kodaly" under "Group" section)
Directions to Western: